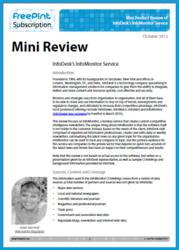 InfoMonitor is a once-daily competitive intelligence, news and media monitoring service.
Tarrytown, NY (PRWEB) November 30, 2012
Companies looking for a solution to the "ever-present" problem of information overload should consider using InfoMonitor, a service of InfoDesk, according to a review by FreePint, a UK-based publisher focusing on information solutions.
"With information overload ever-present," the review states, "InfoMonitor is a solution that companies should look into if they need a service that can aggregate large amounts of information and deliver stream-lined, up-to-date briefs on the most important issues in any industry."
InfoMonitor is a new custom competitive intelligence, news and media monitoring service from InfoDesk. As the review states, InfoMonitor leverages a combination of technology, editorial input from information professionals and continuous client feedback, thereby providing a "wholesome approach to tackling the daily volume of information."
The InfoMonitor review, written by Aileen Marshall, was published October 2012. FreePint is a UK-based publisher of practical articles and reports about information practice, content and strategy. Ordinarily FreePint product reviews are available by subscription only, but InfoDesk is offering complimentary access to the InfoMonitor review.
InfoMonitor is a once-daily competitive intelligence, news and media monitoring service.
InfoMonitor brings an organization all the important news and information, from all their preferred sources in one custom-edited, easily digestible daily email update.
InfoMonitor combines InfoDesk's technology with a professional editor's review, enabling it to scan and filter thousands of news sources--including all types of subscription, web and social media sources--to deliver the most relevant clips without redundancy.
As the review states, the information used in InfoMonitor comes from a variety of data sources, including major wire services, local and national newspapers, scientific literature and journals, magazines and professional journals, trade press, government and association web sites, reputable blogs, newsletters and Internet web sites.
InfoDesk says that InfoMonitor helps organizations leverage the value of existing subscriptions, content and technology investments; distribute content more effectively and drive information usage; reduce the burden on Information and IT professionals; communicate time-sensitive business information more quickly and cost efficiently; identify emerging trends, risks and threats as well as new business opportunities sooner than competitors; and facilitate better decision making, workflow and internal communication about industry-related news and information.
Additionally, to introduce InfoMonitor, InfoDesk has prepared a two-minute video, a complimentary six-page InfoMonitor Sample CI Brief and is offering InfoMonitor demos by request. Contact InfoDesk at 914-332-5940 or info(at)infodesk(dot)com.
About InfoDesk
InfoDesk (http://www.infodesk.com) specializes in information management solutions that help organizations integrate, deliver and share content resources more quickly, cost effectively and securely. For more than twelve years InfoDesk has helped some of the largest multinational corporations, top government agencies and media companies integrate, deliver and share large volumes of information more effectively. InfoDesk is based in Tarrytown, NY with offices in London and Washington DC.