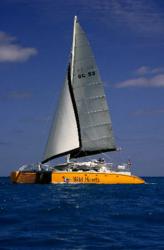 During this time of year our ownership and staff wanted to find a special way to give back to our community, yet provide an memorable and entertaining event
Orange Beach, Alabama (PRWEB) November 30, 2012
Santa may not be working too hard because he has been seen sailing the beautiful waters at Orange Beach, Alabama. The annual "Sail With Santa" benefit is happening aboard the "Wild Hearts" sailing yacht. On the first four Saturdays of December you can take your family or friends for a cruise around the emerald green waters of Perdido Bay and Santa will host the event. The kids can tell him what they are wanting for Christmas and the parents can enjoy refreshments served by the elves.
Perdido Beach Services is providing this charity outtings until the 22nd of December. The "Sail with Santa" promotion donates the proceeds to the Salvation Army. Debbie Sims, Public Relations Director, stated that "During this time of year our ownership and staff wanted to find a special way to give back to our community, yet provide an memorable and entertaining event".
"Wild Hearts" sailing yacht is a beautiful 53 foot catamaran completely equipped with spacious cabins, large fun deck, ample seating and even a galley. During the rest of the year the yacht offers cruises for private charters, sunsets and dolphin expeditions. Their staff is a crew of highly trained sailors who have not only captained the waters of the gulf, but have navigated oceans around the world.
"Sail With Santa" is very family priced at $25 per adult and $15 for children under fifteen years of age. The yacht leaves from a private marina located at 27200 Perdido Beach Blvd., directly across from the Perdido Beach Resort. They will also pickup groups from public marinas such as Caribe Resort. You can find more details on their website http://www.sailwildhearts.com or by calling (251) 981-6700.