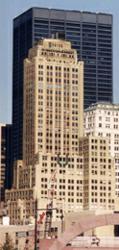 "Strategic planning, long hours, and a healthy dose of creativity allowed us to restore critical services to the building in just over four weeks," said Tal Eyal, President of FS Project Management.
New York, NY (PRWEB) November 30, 2012
New York property manager Cooper Square Realty, a FirstService Residential company, in conjunction with the Board of Managers of Greenwich Club Residences, has announced that the luxury condominium tower will reopen to residents early next week. The 452-unit apartment building, located at 88 Greenwich Street in Manhattan's Financial District, had previously been declared "unsafe" by the New York City Department of Buildings (DOB) due to damage from Hurricane Sandy.
Greenwich Club Residences suffered significant damage when last month's storm allowed more than three million gallons of salt water – equivalent to the contents of five Olympic-sized swimming pools – to flood the building's three sub cellars.
The DOB approved the reoccupancy of Greenwich Club Residences after certifying that basic services had been restored. The building now has electrical power, heat and hot water, elevator use, operational life safety systems and is structurally sound.
"This is a huge victory for the owners and residents who have been displaced from their homes since the storm," said David Kuperberg, Chief Executive Officer of Cooper Square Realty, which has managed Greenwich Club Residences since the building opened in 2007. "Although many of the repairs are temporary, and it will take several months for the building's systems to be fully restored, this is a critical first step in bringing the building back to life and getting our residents back in their homes."
An information session for apartment owners to provide an update on restoration of the building was held on November 28. The meeting was hosted by the building's Board of Managers, its property manager Cooper Square Realty, and FS Project Management, the company retained by the board to oversee restoration work.
"In general, the owners are pleased with the significant progress that has been made in a short time despite extremely challenging circumstances," said Marc Kotler, Vice President of Cooper Square Realty who oversees the building.
Original estimates after the storm indicated residents could be displaced from the building for up to four months. "Strategic planning, long hours, and a healthy dose of creativity allowed us to restore critical services to the building in just over four weeks," said Tal Eyal, President of FS Project Management.
After correctly predicting that the hurricane's magnitude would overwhelm local service providers, FS Project Management made arrangements to secure contractors and equipment from Wisconsin and Michigan to guide the restoration process at Greenwich Club Residences. A team of experts – including engineers, architects, plumbers, electricians, pump experts, building experts, and project managers – has been on site daily working fervently to restore services.
"As we move forward with permanent repairs to the building's systems, we will continue to work closely with Cooper Square Realty and the Board of Managers to evaluate each system and determine the best ways to minimize damage from any future disasters," added Eyal.
About Cooper Square Realty
Cooper Square Realty is the premier residential property management company in New York City and also offers project management and energy management services. Cooper Square's portfolio comprises upwards of 500 condominiums, cooperatives, and rental properties with an aggregate value of over $6 billion. The company manages more than 70,000 residences that are home to more than 200,000 people. These include distinctive lifestyle properties such as The Plaza Residences, luxury residential towers such as New York by Gehry, new developments, prewar landmark buildings, and apartment complexes. Further information is available at http://www.coopersquare.com.
Cooper Square Realty is a subsidiary of FirstService Residential Management (http://www.fsresidential.com), North America's premier residential property management company, overseeing more than 5,600 properties and over 1.3 million residential units.
# # #