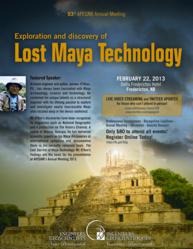 It is always an honor to get to address a group of Professional Engineers.
Fredericton, New Brunswick, Canada (PRWEB) November 30, 2012
The Association of Professional Engineers and Geoscientists of New Brunswick has asked engineer James O'Kon to be the Featured Speaker for its 93rd Annual Meeting. O'Kon has many years experience as an engineer and has received awards from organizations such as the American Society of Civil Engineers (ASCE), American Consulting Engineers Council, United States Air Force Design Award, American Institute of Steel Construction. In addition to his time spent on projects including the Roosevelt Island Tram in New York City and the Anti-Submarine Warfare Maintenance and Training Facility in Jacksonville, FL, James O'Kon has pursued a lifelong passion for the engineering, sciences and technology of the Maya.
In his role as an archaeo-engineer O'Kon has combined his unique professional engineering experience with the search for lost Maya technology. After years of collecting field data, obtained by traveling in dugout canoes, hacking his way through the jungle and sleeping in tents, he was able to use his forensic engineering skills, along with modern digital tools, to reveal the mysteries of lost Maya technology.
His discoveries in Maya technology have been recognized by National Geographic Magazine, among other publications, and in a production on The History Channel. He has delivered scientific papers dealing with his discoveries in Maya technologies at international engineering and archaeological symposia and presented his discoveries to the Explorers Club in New York City. His explorations and discoveries of Maya technology have been documented in his book, The Lost Secrets of Maya Technology.