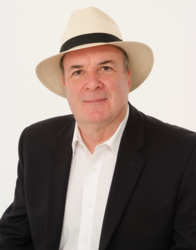 London, England (PRWEB) November 30, 2012
Superior Venture Corp. ("Superior" or "the Company") (OTCQB:SVEN) has appointed Brian Hammond as its President, CEO and a Director Of The Board.
Mr. Hammond will be guiding the Company's development of projects that it is pursuing with major Chinese film studios through Ilustrato Pictures. His experience in co-development and international film production will be instrumental to the strategic deal flow for the Company.
Brian Hammond is a veteran film executive with a long history of film development and studio guidance spanning over 30 years in the North American film marketplace. He is also a head of the Company's wholly owned subsidiary, Ilustrato Pictures, which he co-founded.
As an original founder of Northwest FX, in the late eighties, Mr. Hammond left and created Pilot-West Productions. PWP was involved in the first inter-active learning on laser disc and eventually the web. That company was responsible for numerous special broadcasts for sports, special events and news (CTV Sports, Yeltsin-Clinton conference for WABC, Ironman Triathlon, World Ski Events) offering crews, camera and editing packages and production services. PWP became the largest Avid off line rental house in Western Canada, providing off line systems and postproduction services to a broad North American client base including Showtime, HBO, Crescent Productions and Warner Bros., among others. Mr. Hammond also directed and produced a number of award winning commercials for numerous clients such as Nabob, the Egg Marketing Board, Manitoba Hydro, Kellogg's, Ford, Acura, Lexus, HSBC and others.
In 1999, Pilot-West Productions offered full post-production services and visual effects for television and film under the name of Post-Digital Works. Since June 2000, Mr. Hammond has been working in HD, delivering series and movies to the Discovery Channel, and NHK Japan on a constant basis. In the past seven years, he was involved with Digital I/O for film deliveries and visual effect companies completing over 25 movies.
In December 2004, Brian Hammond and his team founded Shaman Digital Media, built around Avid DS/HD, a complete finishing non-linear system used for number of television series and dramas. In August of 2007, they expanded their facility with the integration of Auto-Desk Lustre and Smoke coupled with the move to a new 11,000 square foot facility, which included digital effects.
Mr. Hammond has consistently been involved in educational and promotional media such "Get Set " and "Go", an interactive program for Premier/School Specialty. He has also produced a number of training and marketing videos for HSBC, Shoppers Drug Mart, IBM, and Xerox, among others.
The long list of production and development credits over Mr. Hammond's career include feature film projects, independent productions, entertainment television and commercials.
About Ilustrato Pictures Ltd.
Ilustrato Pictures Ltd. is an international motion picture development and production company seeking to co-create feature film projects with Chinese film companies. All of its projects are financed, produced and distributed in partnership with domestic Chinese companies. Ilustrato Pictures has developed extensive infrastructure and distribution networks in China –the fastest growing and most dynamic movie market in the world.
For more information see http://www.superiorventurecorp.com
Contact:
Investor Relations
Tel: +44 (0) 207 543 7720
###
Cautionary Statement Regarding Forward-Looking Information
This press release may contain certain "forward-looking statements" relating to the business of Superior Venture Corp.. All statements, other than statements of historical fact included herein are "forward-looking statements" including statements regarding the advantages of Superior Venture's products and services, anticipated advantages resulting from the merger, whether funding anticipated from completing the merger will result in successful completion and development of the film development component of the business and its market acceptance, the business strategy, plans and objectives of the Company and Ilustrato Pictures Ltd.; and any other statements of non-historical information. These forward-looking statements are often identified by the use of forward-looking terminology such as "believes," "expects", "intended" or similar expressions, involve known and unknown risks and uncertainties. Although the Company believes that the expectations reflected in these forward-looking statements are reasonable, they do involve assumptions, risks and uncertainties, and these expectations may prove to be incorrect. Investors should not place undue reliance on these forward-looking statements, which speak only as of the date of this press release. The Company's actual results and ultimate corporate actions could differ materially from those anticipated in these forward-looking statements as a result of a variety of factors, including the perception of investors of the newly merged company and their willingness to fund this newly public company, the demand for films and film development, new products and services developed by other companies, market share garnered by competitors, ability to maintain customer and vendor relationships, and those factors discussed in the Company's periodic reports that are filed with the Securities and Exchange Commission and available on its website (http://www.sec.gov), among other factors. All forward-looking statements attributable to the Company or persons acting on its behalf are expressly qualified in their entirety by these factors. Other than as required under the securities laws, the Company does not assume a duty to update these forward-looking statements.