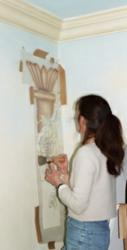 Bath, Somerset, United Kingdom (PRWEB) November 30, 2012
Decorative artist Pam Asanovic is renowned for her room-sized murals and her commissions appear in homes in New York, Connecticut, the Hamptons, Spain, Portugal and England. They are a combination of architectural trompe l'oeil, delicate stencils and specialised hand-painting techniques. Each mural is planned carefully in consultation with her clients. Her work has been featured in Martha Stewart's New Old House, House Beautiful (US) and Country Homes & Interiors (UK).
"I have always enjoyed working on a large scale, transforming rooms into works of art," says Pam, "and my clients frequently ask me to hand paint furniture to coordinate." Pam has transformed old wooden chests, wardrobes and tables into unique heirloom pieces. Few people, however, can afford to commission Pam on this scale, and the decorative artist decided to launch a line of small, hand-painted accessories for the home. "It began as an experiment," explains Pam, "when I produced a number of small boxes in five different designs." The response was so positive she began to explore a source for blanks and discovered a sheltered workshop in Harrogate, North Yorkshire, that produces a range of MDF blank craft items. "They produce high quality products and I wanted to work with a social enterprise that provides support for people suffering from long-term mental health problems."
One prestigious company in the UK was so impressed Pam's hand-painted boxes, trays and paper bins that they have commissioned her to produce exclusive designs for their retail outlets. Realizing that she needed to raise her profile and introduce a wider audience to her work, Pam has apppointed Vivalogue Limited in the UK to redesign her website and provide internet marketing support. "Like me, Vivalogue works closely with clients, on a personal one-to-one basis, to achieve results they want. I'm very pleased with the work they have done for me," says Pam.
ABOUT VIVALOGUE
Vivalogue is a specialty publisher that provides individuals and organizations with editorial services ranging from book creation, corporate newsletters and websites. The company has branches in the United Kingdom and Canada. For more information, visit http://www.vivalogue.com
ABOUT PAM ASANOVIC
Pam Asanovic has a design degree from the Bath Academy of Art and furthered her training in Applied Decorative Art at The Finishing School in New York. She works with interior designers and takes private commissions. For more information and to view her work, visit http://www.pam-asanovic.com
ABOUT CLARO ENTERPRISES
Claro Enterprises is a registered charity and social enterprise based in Harrogate, North Yorkshire, that produces a range of MDF blank craft items. For more information, visit http://www.claroenterprises.co.uk