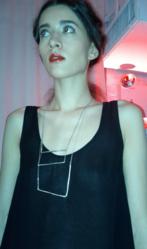 New York, NY (PRWEB) November 30, 2012
NYC Style News editor Merusi Falone attended last night's Stoli ORGNL.TV art, music & fashion event held at Studio 450 in Manhattan, where he reported that fashion designer Nary Manivong flipped the bird to an underwhelmed crowd of 400.
The debut of his green, blue, black & white collection of dresses and separates (http://instagram.com/p/Sovr1SCr7u/) elicited mostly boredom from the bastion of hipsters and VIPs that turned out to celebrate a trio of artist collaborations, according to Falone. The event was organized by Stoli Vodka 'in search of the most original people in art, music & fashion'.
This most recent disappointment for the Laotian comes in the wake of his shocking split (http://nymag.com/thecut/2012/09/ally-hilfigers-nahm-line-has-abruptly-closed.html) from Ally Hilfiger in September, just hours before the duo were slated to unveil their NAHM label's 2013 spring collection at WWD Fashion Week.
"It looks like alot of stuff I've seen in the window at Ann Taylor," commented perplexed attendee Jerry Ralston, "Nary took alot of risk in his 2010 & 2011 collections, but seems to have played it very safe here, it doesn't auger well for him."
Saving the fashion show from failure and attracting the most attention was Manivong's event collaborator, Jessica D'Amico of Brooklyn, whose Lady J Jewelry Designs label unveiled two new collections, Icicle and Comanche at the event. D'Amico, 36 and a mother of two, was championed by the crowd after it was revealed that Manivong schemed to hide her wares in an effort to showcase his garments solo. According to Falone, when confronted by event personel, Manivong initially denied any foul play, but then in a burst of anger barked "Its my show and its my decision."
In a brief interview with Falone after the event, Miss D'Amico expressed her disgust for the lack of respect Marivong showed the crowd. "In this industry, you want to keep a clean reputation because its a very small world. Stepping on your peers will not get you to the top."
"We're really confused about Nary's behavior tonight towards the crowd and Lady J," remarked couple Miche Williams of Betsey Johnson and her beau Dave, the digital manager at MILK Studios. "With that attitude, it calls into doubt his whole backstory about the integrity, character & sensitivity he gained while growing up on the streets of Ohio."
Rounding out the evening, Nina Sky performed a memorable set with talented newcomer DJ Nasty P, and artists Jake Stollery and Jeremyville intrigued party-goers with their collaborative exhibit.
SOURCE: NYC Style News