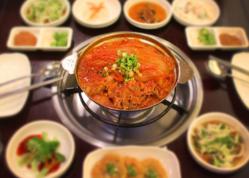 "The extraordinary discovery of Korean traditional aged Kimchi with a three millennium-long history is now only a bite away at Muk Eun Ji restaurant."
New York, NY (PRWEB) November 30, 2012
Muk Eun Ji Korean Restaurant in New York City, in an attempt to aid in the globalization of Korean food, is offering a rare and unique Kimchi to the citizens of New York City.
The name of the restaurant, Muk Eun Ji, is also the name of their specialty Kimchi. This particular type of Kimchi is aged and fermented in low temperatures for a minimum of one year. Muk Eun Ji Korean Restaurant imports the Kimchi directly from Jinan, Maisan, Korea, where Michelin Green Guide gave three stars.
Already, hundreds of New Yorkers and tourists are flocking to Muk Eun Ji every day for this traditional Korean delicacy. Its true Korean origins make for the most authentic Kimchi experience in the city. The choice to import it from Jinan, Maisan was carefully made after owner and CEO Yong Sung Kim toured Korea looking for the Kimchi he felt most represented the honest taste of Korea.
Kimchi is perhaps the most widely recognized Korean dish. However, there are over 400 different kinds and its history dates back over 3,000 years. The Muk Eun Ji Korean Restaurant website reads: "The extraordinary discovery of Korean traditional aged Kimchi with a three millennium-long history is now only a bite away at Muk Eun Ji restaurant."
Muk Eun Ji Korean Restaurant offers Kimchi in its purest form as well as combining it with dishes such as a potato and backbone casserole and dumpling and vegetable hot pot.
Kimchi was rated in the top 5 healthy foods by Health Magazine in 2006.
###