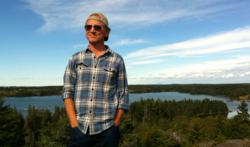 Riverside, Calif. (PRWEB) November 30, 2012
Tune in to Riverside Public Utilities' (RPU) weekly radio program the "Green Power Report" on Monday, December 3, at 6:30 p.m. on AM 590 The Answer, when host Mike Bacich speaks with James Redford, son of world-famous actor Robert Redford, about his latest environmental documentary "Watershed: Exploring A New Water Ethic For The New West."
"Watershed" examines the increasing and unsustainable demands on the Colorado River water system that so much of the western United States relies upon. Learn about how this environmental collaboration with his father is working to change the way that people think about, use, and conserve water and is working to create a new water reality in California and throughout the world.
The multi award winning Green Power Report has been on-air since 2007 and serves as one of Inland Southern California's key sources for news about environmental stewardship, sustainable living practices, and renewable energy. Past guests have included area city and utilities officials as well as top environmental bloggers, activists, celebrities, and corporate heads including: Curtis Ravenel, Global Head of Sustainability, Bloomberg; Alexandra Cousteau, world famous environmentalist; David Stubbs, Head of Sustainability for the 2012 London Olympic Games; and Henrik Fisker, Co-founder and CEO of Fisker Automotive.
After their air dates, Green Power Report broadcasts are available to download through iTunes and via the show's radio player at http://www.GreenRiverside.com.
For additional information on the Watershed film, visit http://www.WatershedMovie.com.