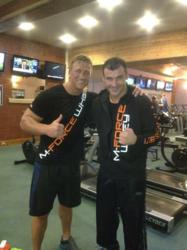 Birstall, West Yorkshire (PRWEB UK) 30 November 2012
Yorkshire based supplement retailer, Muscle Force Supplements, have announced the launch of their own brand of products; Muscle Force Nutrition. The launch of 4 supplement products comes in conjunction with endorsements for the brand from British boxing champion, Joe Calzaghe, former Huddersfield Giants star, Keith Mason and 4 times British bodybuilding champion Nana Manu.
Simon James, head of the Muscle Force Nutrition brand, announced the range of products, which include M-Force Whey, G-Force Extreme, Grow Force Anabolic and Lean Force Thermo, at the recent UK NABBA (National Amateur Body Builders Association) show in Batley earlier this month. The brand welcomed 4 times British bodybuilding champion, Nana Manu, to the show with them as a main sponsor and proud endorser of the new brand of supplements.
The 2013 range of Muscle Force Nutrition supplements includes the following products:
M-Force Whey
The M-Force Whey supplement is a fantastic tasting whey protein supplement which has undergone extensive research and development to create 'the ultimate whey protein supplement.' Priced at just £35.99 for a 2.2kg tub which does 90 servings, M-Force Whey stands way ahead of the competition in terms of an ultimate supplement at an affordable price.
G-Force Extreme
G-Force Extreme is Muscle Force Nutrition's pre-workout supplement and, following years of research and development, has been launched as what they believe to be the perfect combination of ingredients at exactly the right amounts needed to create unparalleled muscle pumps and focus. G-Force Extreme retails at just £23.99 for a 35 serving tub.
Grow-Force Anabolic
Grow-Force Anabolic has been launched as Muscle Force Nutrition's very own all-in-one supplement; a premium quality protein which contains high levels of timed release protein and complex carbohydrates to ensure your muscles get all the vital nutrients to enable them to grow and develop. Grow-Force Anabolic retails at £47.99 for a 4.0kg tub.
Lean-Force Thermo
Lean-Force Thermo has been launched as Muscle Force Nutrition's fat burner supplement. It has been created through a lengthy research and development process using some of the strongest ingredients available in order to create the ultimate fat burner. Lean-Force Thermo ignites your metabolism alongside giving immense focus and alertness and retails at just £27.99 for 90 capsules.
The 2013 range of Muscle Force Nutrition supplements is available now exclusively online at http://www.muscleforcesupplements.com/132/muscleforce-nutrition.html and in store at the Muscle Force Supplements shop at 18 Market Place, Birstall, Batley, WF17 9EL or by calling 0800 321 3883.