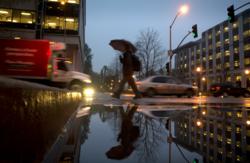 Rapid rising of streams and rivers is expected with localized flooding.
Sacramento, CA (PRWEB) November 30, 2012
Current weather may pose risks for motorists and homeowners in the Sacramento Area. According to CBS News, severe weather conditions began Wednesday morning and will continue until Sunday evening. Expect heavy rain with totals of 12 to 18 inches in Shasta, Butte, and Plumas County with snow levels rising in the mountains. The foothills may get up to 12 inches of rain with the heaviest totals in the Feather River Basin and Shasta County foothills. The Sacramento Valley will see four to eight inches and Northern San Joaquin will see two to four inches.
Winds will also rise to 25 to 40 miles per hour with gusts up to 70 miles per hour in the mountains; 25 to 35 miles per hour with gusts up to 55 miles per hour in the foothills; and 25 to 35 miles per hour in the valley with gusts up to 45 miles per hour.
This weather event will cause mud and debris flows in burn-scarred areas such as those in Shasta and Tehama Counties, local power outages from downed limbs or trees, and flooding of streets and highways during periods of hard rainfall. Rapid rising of streams and rivers is expected with localized flooding.
John Demas, Sacramento attorney, reminds everyone to take precautions against the effects of this weather event. When possible, stay off the roads and be sure that windows and doors are well-sealed to prevent water damage. Be careful of local flooding and be prepared to move to higher ground if directed to do so. Keep an emergency first-aid kit on hand, as well as a supply of clean water and non-perishable food in case of power outages.
If you must be on the road, slow down and be observant of any closed roads or downed trees or power lines. Never drive through standing water, and never touched downed power lines or drive over them. If you are unable to drive due to debris, stay in your vehicle and call for emergency assistance.
Obey all orders by local authorities, including evacuation orders, and keep in touch with family and friends to ensure everyone's safety. Demas Law Group reminds everyone to stay safe during dangerous weather events.
About Demas Law Group, P.C.: Demas Law Group is a Sacramento personal injury firm that handles car accident cases as well as medical malpractice, product liability, dog bites, slip and fall injury cases, and other types of injury and accident cases. The attorneys at Demas Law Group can help victims recover damages for injuries sustained in accidents caused by someone else's negligence.