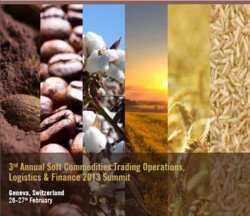 Geneva, Switzerland (PRWEB UK) 30 November 2012
Back in its third year, The Soft Commodities Trading Operations, Logistics & Finance Summit which attracted over 100 delegates from its previous years is coming back to Geneva on the 26th-27th February 2013.
The volatile and changing market presents new demands, and the need has arisen to get fresh insights into dealing with priorities in the most effective way. With this in mind, IRN brings you an even more focused event with fresh content and sessions on 26-27th February 2013 where you can pick up unrivalled advice and insights on how to develop excellence in every part of your organisation; from building efficient strategies to reducing costs and risks across the supply chain and of course engaging your corporate responsibility towards the crucial new challenges of the industry.
Senior level practitioners across the soft commodities industry will be addressing exclusive presentations over the two days. Olam, Cargill, Armajaro, Ameropa, Louis Dreyfus and HSBC are among the numerous companies involved in the forum this year again. Through interactive presentations, case studies and workshops, their senior-level representatives will be looking at the best practices in terms of reducing costs and driving efficiency within the operations. They will demonstrate in real concrete cases the strategies that can be put in place to help the industry embrace effective approaches to challenges such as sustainability, integration of developing countries, keeping up with the logistical and legal aspects, risk management across the supply chain as well as human and resource asset development.
'Jagdish Parihar, Managing Director, Natural Fibers Division, Olam International Ltd' will be discussing the Long term future of agricultural commodities and the key challenges.
'Pamela Kirby Johnson OBE, Director General, GAFTA' will be discussing Warehousing - Assessing effective measures and practices in quality control, standards and certification challenges.
Financial institutions and commodity finance specialists will also have a look at the implications of the Eurozone crisis on the industry.
The summit is a must-attend event for professionals involved in the soft commodities trading industry, whether they deal with rice, cocoa, cotton, sugar, coffee or grains.
It is a critical point to bring the key players in the industry together once again. SCT 2013 has been designed to allow discussions, benchmarking and networking.
Registration for the summit is open at http://www.softssummit.com/.
For more information, please visit the event website or email Jessica Jonah at jessicaj(at)international-research-networks(dot)com. In the subject line please include 'more info softs 2013' or telephone +44(0) 20 7111 1615