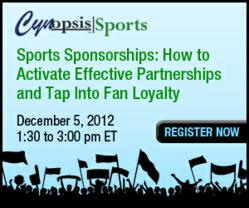 New York, NY (PRWEB) November 30, 2012
Experts from Nielsen, Turner Sports and CSE will share the secrets and tactics behind some of the sports world's most effective and memorable campaigns at the December 5 webinar, "Sports Sponsorships: How to Activate Effective Partnerships & Tap Into Fan Loyalty." Hosted by Cynopsis Sports, this interactive virtual workshop is the key to growing sponsorship revenue in this highly competitive marketplace and will put you on the right path to grow or launch new revenue streams in 2013.
Sports industry experts, Stephen Master (SVP, Head of Global Sports practice at Nielsen), Jeff Mirman (VP, Marketing for Turner Sports), and Adam Zimmerman (President, Marketing at CSE), will share smart, proven strategies and tactics that have led to successful engagement with their audiences.
At this 90-minute webinar, you'll get the ideas and blueprint for creating highly effective sports sponsorships for brands, addressing such topics as:

How to attract deeply engaged audiences and develop brand loyalty
How to expand marketing platforms from a short-term pop to a year-round opportunity
Capturing relevant personal data that can be used to identify new partners and enhance engagement
Cross-promotion case studies and results that show how media buyers and agencies are leveraging the power of sports
Keeping the campaign cohesive on multiple platforms
Smart tactics for measuring sponsor ROI
This interactive webinar will allow for real time Q&A's to ensure specific questions are answered.
To register for the Sports Sponsorship: How to Activate Effective Partnerships & Tap Into Fan Loyalty webinar, visit: http://www.cynopsis.com/webinars/sports-sponsorships
Webinar attendees receive full access to speaker presentations along with a certificate of completion. Webinar tuition is based on location, not number of participants, so each registration site can have multiple participants for one low price. Questions? Contact Trish Pihonak at trish(at)cynopsis(dot)com.
About Cynopsis Media
Cynopsis Media is a division of Access Intelligence LLC. The Cynopsis Media family of products includes Cynopsis, Cynopsis: Digital, Cynopsis: Kids and Cynopsis: Sports daily e-publications, weekly Cynopsis: Classified Advantage e-publication, Special eReports, Event/Summits and a strong database of Classifieds and more. Visit cynopsis.com.
###