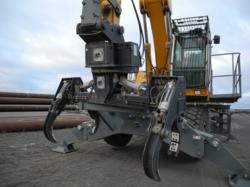 Tough Handling Equipment
(PRWEB) November 02, 2012
Rotobec's 35 years of experience in designing, manufacturing grapples, loaders and industrial material handling attachments ensures our customers get the best attachment designed specifically for their tough applications.
Rotobec's custom attachments group, works with the customer to ensure the material handling solution provided by Rotobec, meets and exceeds the customer's expectations.
Customized projects have successfully met the expectations of customers in , rail, material re-handling, forestry, demolition and scrap market segments.
Site visits by our sales and engineering teams can be arranged to suit the customer.
Examples of past custom projects by Rotobec can be seen here.
More information regarding Rotobec's custom design service can be obtained by contacting Mark Shukla 424.653.9019