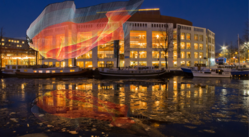 Brookline, MA (PRWEB) November 27, 2012
Studio Echelman today announced that the European premiere of Janet Echelman's 1.26 sculpture will be the Amsterdam Light Festival, where it will headline the winter celebration which runs from December 7th through January 20th 2013.
This cultural festival of light and water will illuminate Amsterdam's city center with light sculptures by contemporary artists along the historic canals and river. The signature project will be Echelman's 230-foot aerial sculpture suspended over the famous Amstel River in front of the Amsterdam Stopera, which houses the City Hall and Muziektheater.
The sculpture, titled 1.26, draws inspiration from NASA laboratory data on the 2010 Chile earthquake and the 1.26-microsecond shortening of the day. Echelman generated the sculpture's form using a 3-D model of the earthquake's ensuing tsunami in collaboration with scientists from NOAA (United States National Oceanographic and Atmospheric Administration).
"Reflections in the surface of the river water are the focus of my work for Amsterdam," said Echelman. "The Amstel River and canals are central to life in Amsterdam, and the opportunity to interact with light reflections from my sculpture onto the river's surface is unique."
The sculpture was originally suspended from the Denver Art Museum to commemorate the inaugural Biennial of the Americas in 2010. In 2011, the sculpture travelled to Sydney, Australia where it was suspended in front of Sydney's historic Town Hall over the busiest traffic intersection on the continent. In 2012, the sculpture travels to its third continent to make its European debut in the Netherlands.
Rogier van der Heide, curator of the Amsterdam Light Festival, invited Echelman to create the project for Amsterdam, and said the inaugural event will "provide more meaning to public spaces, show the beauty of simplicity, and – probably most importantly – bring people together."
Janet Echelman leads Studio Echelman, which is known for reshaping urban airspace with monumental, fluidly moving sculpture that responds to environmental forces including wind, water, and sunlight. Echelman was recently announced as an Architectural Digest 2012 Innovator, selected as one of eight global design leaders "challenging received wisdom and conjuring a bold new world." Echelman's TED Talk "Taking Imagination Seriously" has been translated into 33 languages and is estimated to have been viewed by more than a million people. Sculpture Magazine calls her work "a bold new direction for sculpture" and her award-winning artwork Her Secret is Patience, which spans two city blocks in downtown Phoenix, has been credited with creating a sense of place that fosters urban identity and revitalization.
For additional information regarding Studio Echelman's sculpture, contact Melissa Henry, melissa(at)echelman(dot)com.
Studio Echelman
Studio Echelman explores the cutting edge of sculpture, public art, and urban transformation. Follow us on Facebook: https://www.facebook.com/studioechelman