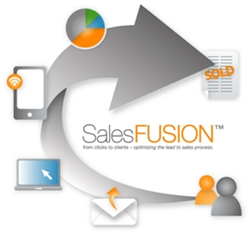 We are excited and honored to be the only marketing automation solution selected to be included in the SoftChoice Cloud"; Kevin Miller, CMO, SalesFUSION
Atlanta, GA (PRWEB) November 20, 2012
SalesFUSION™ an integrated sales and marketing demand generation platform that connects to CRM, announced that it will become an offered solution in the SoftChoice Cloud Launch platform. This event, in Toronto will introduce the Softchoice Cloud, a comprehensive range of services to simplify an organizations move to the cloud. The solutions being offered in the SoftChoice Cloud cover Private Cloud, IaaS and SaaS, and have been designed to simplify each stage of the cloud adoption process. SalesFUSION was selected along with other leading Cloud-based software vendors, to be a standard offering within this unique cloud offering.
SalesFUSION will complement CRM solutions in the cloud by providing a fully integrated marketing automation platform and campaign management solution that can be connected to Microsoft CRM or Sugar CRM as well as being offered as a complete stand-alone marketing automation system. Said Kevin Miller CMO at SalesFUSION; "We are excited for the opportunity to work closely with our partner, SoftChoice, on delivering a powerful yet easy-to-deploy marketing solution within their new Cloud. SalesFUSION has always focused on delivering deep integration to leading CRM systems and our selection as the only marketing app in the SoftChoice Cloud validates that we have done our work in integrating marketing to CRM well".
SalesFUSION provides a complete marketing automation platformthat includes a variety of functionality commonly used by b2b marketers. Key features of the application that are available through the SoftChoice Cloud are lead scoring, nurture-based marketing programs, landing page, social media publishing and multichannel campaign management. SalesFUSION will be featuring it's application a the launch event in Toronto on Tuesday, September 25th.
SoftChoice cloud customers will be able to purchase a subscription to SalesFUSION via the cloud and also select which CRM system they would like to connect SalesFUSION to. The process for procuring and deploying SalesFUSION will be greatly simplified as part of this Cloud offering. SoftChoice has been a user of the SalesFUSION platform for over a year and recently entered into the cloud resale relationship with SalesFUSION.
About SalesFUSION
SalesFUSION 360 provides software that accelerates revenue by connecting sales and marketing with prospects at the moment they are ready to buy. This is made possible through the SalesFusion 360™ suite, which complements CRM applications by adding an on-demand enterprise lead management service. SalesFUSION 360 increases lead quantity, lead quality, and revenue conversion rates by integrating and automating the lead management process. Visit our site: http://www.salesfusion.com