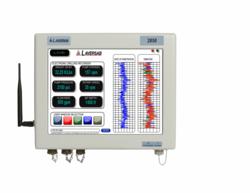 Oilffield: Innovative designs, relable products, outstanding service.
Sugar Land, TX (PRWEB) November 30, 2012
Recently introduced products from Laversab include certified Class 1, Division-1/Zone-1 and Class 1, Division- 2/Zone-2 computers.
The Model 2850 computer is designed for Class 1, Division-2/Zone-2 applications. The 2850 weighs in at 10 kg (22 lbs) and has a small footprint of 38 x 32 x 10 cm (15 x 12.5 x 4 inches). It features a dual-core Intel Atom processor and uses a solid-state drive for storage, enabling it to withstand severe vibration. The 15-inch sunlight-readable display with auto-dimming, coupled with a touch-screen, provides an exceptionally clear, crisp and easy to use human interface. Interfaces include Ethernet, 900MHz wireless with 1 watt transmission power for reliable use over longer distances, dual USB ports, an RS232 or 485 connection. In addition, all connections are made using standard sealed circular connectors. An Intrinsically Safe (IS) keyboard is also available for applications where required. The 2850 runs on 90-260 VAC power and connection is made through an approved connector. Environmentally, it operates from -40oC to +50oC, is impervious to salt-fog, is sealed to IP-65 standards and can withstand vibration of 3G RMS Its small footprint and light weight make it ideal for use in Zone-2 areas on the rig floor.
The Model 3200 Driller's Display unit is designed to be Intrinsically Safe (IS) for Zone-1 applications. Because of its IS design, the 3200 weighs in at 5 kg (11 lbs) and has an extremely small footprint of 28 x 23 x 5 cm (11 x 9 x 2 inches). This unit is specifically designed to display critical parameters for the driller. It features a 10.4 inch (640x480) sunlight-readable display and consumes less than 5 watts of power. It has a single connection using a circular sealed connector. DC power and data (via RS232 or RS485) are supplied from a host that is located in a "safe" area. The 3200's internal computing capability provides the user the flexibility to present this data to the driller in any graphical format desired. Environmentally, it operates from -20oC to +50oC, is impervious to salt-fog, is sealed to IP-65 standards and can withstand vibration of 3G RMS.
Elegant MWD solution
The Model 4100 is a complete Directional MWD Surface System designed for C1D2/Zone-2 applications. This compact unit is located on the rig floor, close to the driller. It functions as the mud-pulse decoder for the directional tool, and acts as the Driller's Display as well. The pressure transmitter on the mud-pump connects directly to the 4100 and allows the built-in XXT Receiver to decode the mud-pulses generated by the down-hole tool. The 4100 displays (for the driller) all the relevant MWD information decoded from these pulses. It then sends this information through a wireless interface to a safe-area laptop PC for viewing, logging and further analysis. This solution eliminates all cables that typically need to be run between the rig-floor and the safe area in a conventional MWD Surface System. The 4100 is compatible with virtually all directional tools that feature the QDT system and includes a complete MWD software suite.
Custom Solutions
Laversab has successfully executed a number of custom-design projects of certified computers for specific customer requirements. Some of these projects include a Zone 1 Driller's Display that operates on only 3.5 watts power consumption and resides on the rig floor. An additional project required a 15" display that would be truck mounted and incorporated specific communication protocols in order to monitor fleet vehicles, performance, location, maintenance history among other parameters. Laversab can design customer defined systems for all oilfield applications that integrate various types of Input/Output (I/O) signals and can perform reliably in the harshest conditions.