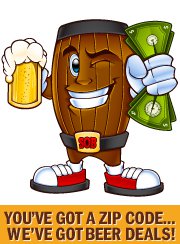 Our data shows the average person can save about 25% off of retail.
Houston, TX (PRWEB) November 29, 2012
For many American households, beer is one of those inevitable ongoing expenses. After 3 years of research, SaveOnBrew.com has become the "Google" of local beer prices. Users simply enter their zip codes to find all the beer sales and prices within a specified radius.
"Our website is one of the best ways to shop around, without going through the trouble of calling up every single store in your area," says SaveOnBrew's Mark Davidson. "Our data shows the average person can save about 25% off of retail when buying beers on special versus the same brand not on special."
SaveOnBrew's database has close to 9,000 beer brands with over 35 million deals posted so far. The site is continually growing and adding more retailers to their site – especially since advertising is free for sellers. SaveOnBrew has a mobile website and "Beer Alerts," which automatically notifies consumers when their favorite beers are on sale nearby.
In addition to using SaveOnBrew prior to beer shopping, there are four other ways to save big on beer:
1. Buy Big. A six-pack of Heineken sells for $1.50 per bottle. A twelve-pack goes down to $1.08 per bottle. A twenty-four-pack is just $1.04 per bottle. For a keg, one would only pay about 50 cents a beer.
2. Find A Good Domestic Staple. There is no problem with indulging in a special craftbrew or import every once in a while, but that can get pretty expensive over time! Even the staunchest beer snobs are able to find at least one good domestic product they can live with, be it Yuengling, Rolling Rock, or Shiner Bock.
3. Brew At Home. Mr. Beer Kits give consumers all they need to brew 2 gallons of beer for $40 to $100. There are also more high-end kits from HomeBrewers.com that sell for $95 to $350 for 2 gallons. People who have their own supplies can get free recipes at BeerRecipes.com. Bottles and supplies shouldn't cost more than $30. Over time, the savings can be significant.
4. Shop The Rebates. Updated beer rebate offers are posted at http://asupersavvysaver.blogspot.com/2012/07/current-beer-rebates.html and LivingRichWithCoupons.com. CouponsDealsAndMore.com provides printable beer rebate forms that can be mailed in for money back. SaveOnBrew has heard from couples who say they save $50-$100 a year just by shopping the rebate offers. Davidson cautions though, that "coupons and rebates are not available in all states."
Consumers can visit http://www.SaveOnBrew.com for more information on getting the lowest price on beer.
About SaveOnBrew.Com: Founded in 2010 to help thirsty beer drinkers across the United States find the lowest advertised prices for one of the world's most popular beverages.