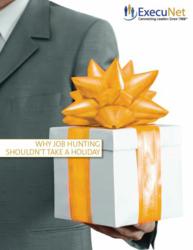 "Companies with hiring needs don't look at the calendar; they just have to fill their open positions."
Norwalk, Connecticut (PRWEB) November 13, 2012
http://www.ExecuNet.com – November 13, 2012 – Executive recruiters suggest job seekers increase their search activity amidst the holiday partying and time with family, as more than half (53 percent) of the search firm respondents to ExecuNet's recent survey report that interviews are being scheduled during the last two months of the year. Sixty-two percent say hiring decisions are also being made in November and December.
More than two-thirds (69 percent) of surveyed executive recruiters say the number of search assignments initiated and the number of jobs posted increases during November and December or remains the same as the other 10 months of the year. Further, 65 percent of recruiters report the number of hiring managers available actually increases the last couple months of the year or remains the same.
"Companies with hiring needs don't look at the calendar; they just have to fill their open positions," says Jason Maczuba, Director of ExecuNet's Search Firm and Recruiting Services Community. "Search firms have to fulfill their budget allocations before year-end so they are on a deadline to recruit and hire. November and December are among the busiest times of year at ExecuNet as we help our recruiter members source executive talent."
For executives who mistakenly plan a job search hiatus during the holidays, it's likely their competition will leave them in the dust, as 79 percent of recruiters find the number of employed executives returning calls increases or holds steady throughout the holidays. In fact, November and December are prime time to reach out to recruiters, as 78 percent of respondents say they are available and in the office.
Holiday List for Executive Job Seekers
Recruiters Recommend November and December Activities
1. Maintain job search intensity
2. Prepare to jump ahead of competitors in January
3. Network with recruiters and build relationships
4. Use holiday parties to network
5. Send holiday cards
6. Invite recruiters and key contacts to lunch
7. Take time off and recharge
Source: ExecuNet, 2012
Find out how you can get the competitive edge when you download ExecuNet's white paper: Why Job Hunting Shouldn't Take a Holiday.
About ExecuNet
Since 1988, ExecuNet has helped business leaders shape positive change to achieve what's next in their individual lives. From its beginnings as a small gathering of executives in Connecticut, ExecuNet has evolved into a private network of over 250,000 senior-level executive members with a belief in the transformative potential of trusted insight, real connections and personal introductions to help them find meaningful new work, advance in their careers, better manage the growth of their businesses, and become high-value leaders. A recognized authority in executive employment, retention and recruitment, as well as human capital trends, ExecuNet keeps its members informed about what's important to them in business and their careers.