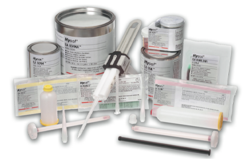 "We are very pleased and enthusiastic to have the opportunity to partner with Henkel Aerospace,"
- Mark Henry, President of Associated Industries Inc
Wichita, Kansas (PRWEB) December 06, 2012
Associated Industries announces that they are an approved Henkel authorized distributor. With this new approval, the company will now carry Henkel's leading Hysol® structural adhesives, and well known surface treatment products, including the Alodine® 871™ and 1132™ Touch-n-Prep pens, Multan® metalworking fluids, and Turco® paint strippers. Additionally, Associated Industries has been added to Henkel's exclusive BMS Time and Temperature approved distributor list, which includes aerospace distributors that have approval to sell Boeing specified time and temperature sensitive materials.
"We were impressed with Associated Industries long history of sales and service in support of this important aviation region," said Dennis Cardoza, Global Channel Manager, Aerospace, Henkel.
Associated Industries is ISO 9001: 2008 + AS9120: 2002 Certified, and specializes in serving Aerospace customers in the Wichita area.
"We are very pleased and enthusiastic to have the opportunity to partner with Henkel Aerospace," said Mark Henry, President of Associated Industries Inc. "Henkel adds a new dynamic to our business that we have not had in the past. This allows Associated Industries to be a more complete, well rounded supplier to our customers."
About Associated Industries Inc.
Associated Industries Inc. was established in Wichita Kansas in 1952 as a manufactures representative group. Over the years they have become a stocking distributor to many industries. The company has been under its current ownership since 1972 and has grown substantially supporting Aircraft, Transportation, Marine, and Reinforced Plastics / Composite Industries. We are located in Wichita Kansas at 225 Wabash in a 10,000 square foot facility where we warehouse and ship materials to over 500 customers.
Associated Industries Inc. supplies many products including but not limited to: Vacuum Bagging Materials, Aircraft Sealants, Sealant Dispensing Equipment, Fiberglass, Carbon & Kevlar, Core Materials, Adhesives, Polyester Resins, Epoxy Resins, Industrial Adhesives, Gel Coat, and Tooling Materials.
For more information on Associated Industries, Inc., please call 316-264-6311 or visit http://www.associatedindustriesinc.com.