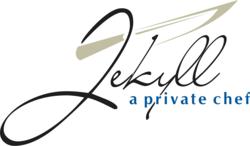 Destin, FL (PRWEB) December 03, 2012
As the holidays approach and Floridians begin looking for the perfect gift for friends and family, Chef Jekyll, a licensed personal chef in Destin, has the solution. Chef Jekyll wants to pass his expertise on to his guests, so this holiday season he's offering gift certificates for private cooking classes. Whether guests want to learn the secret to perfect cheesecakes or preparing the best local seafood, Chef Jekyll can provide an edge to seasoned amateur cooks and inexperienced foodies alike.
With years of cooking experience, proprietor Carey Stegall - better known as Chef Jekyll - has served clients ranging from private families to businesses around the Emerald Coast, and now his cooking lessons are designed to help individuals create unforgettable holiday meals, party appetizers, and cookies that won't scare off Santa Claus. But traditional holiday dinners aren't the only present in Chef Jekyll's bag. After serving in the Air Force for thirty years, Stegall has sampled the local cuisines of Germany, Italy, Korea, Hawaii, India and many more, not to mention the regional cuisine of several states back home.
Cooking lessons are a useful gift for anyone who enjoys food, and Chef Jekyll's goal is to provide each guest with the recipes and techniques to prepare it themselves, and have fun doing it. "A gift certificate for a private cooking lesson is a unique and useful gift idea for the holidays. I love to share my experience with folks who appreciate fine food prepared in a fun, healthy way. Give Chef Jekyll a call to arrange it all...Santa will be so happy!"
Learning to cook is a gift that keeps on giving, and for more experienced guests, this chef's expert techniques and recipes aim to provide a whole new dimension of flavors and dishes to their repertoire. This holiday season, skip the socks and stocking stuffers, and give Chef Jekyll a call instead.
About the company:
Proprietor and Emerald Coast "native son" Carey Stegall – better known as Chef Jekyll – is a licensed private chef specializing in Local Seafood, Italian, and Southern Comfort cuisines. His clients include private individuals, businesses and families in Destin and throughout the Emerald Coast region of Northwest Florida. Returning to Destin, Florida in 2011 after his career in the military, Chef Jekyll has cultivated the local roots that were planted here 35 years ago among the emerald seas and white sands. Inspired by his travels around the world and residence on three continents, this newly established entrepreneur has honed his culinary skills to a fine edge. For more information, please visit their website at http://www.chefjekyll.com.