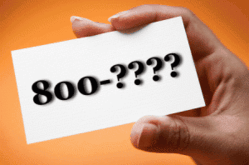 There are a number of issues that are considered to be the contributing factors toward this 800 number shortage.
Irvine, CA (PRWEB) December 10, 2012
The Toll Free Number Organization at TollfreeNumber.ORG is reporting that the current supply of available 800 numbers has plummeted to only "60,000 out of a 10 million number total, which is an all-time-low for this highly coveted toll free number area code."
As a result, owners of unused 1-800 phone numbers are being urged by The Toll Free Number Organization to help relieve the demand by returning unused 800 numbers to the available pool.
According to TollfreeNumber.ORG recent years has shown the supply fluctuating between an available 100K to 200K available numbers. However, thanks to the rising usage of toll free numbers, Tollfreenumber.ORG estimates that the ever dwindling supply is only going to plummet further in the upcoming months.
The Toll Free Number Organization says there are a number of issues that are considered to be the contributing factors toward this 800 number shortage.
Firstly, it was speculated that the 844 area code toll free number was going to be released by the Federal Communication Commission (FCC) this year, but that has been delayed until late 2013 or early 2014.
Another key reason for the shortage is that more and more business owners are beginning to, once again, realize the benefits of owning a toll free 800 number to enhance their marketing efforts and improve their businesses customer service. Despite the fact that we currently live in an age that is so tech-centric, toll free numbers are still regarded as a highly valuable tool for business promotion purposes and customer base builder.
As a result of this, current owners of registered toll free 800 numbers that are not being used are being urged to give their numbers back so that they may help to replenish the pool of available numbers. Doing so could provide business owners who have been waiting for ideal vanity numbers to receive the benefits that accompany them, as well as eliminate the monthly charge that current owners of unused 800 numbers may be paying each month for their toll free service.
An abundance of 800 numbers are currently not being utilized or are simply redirecting callers to another in-use toll free 800 number. The registered owners of these 800 number could greatly relieve the demand that is being placed on the 800 number supply and make a significant impact in the toll free market.
If an individual does currently have multiple 800 numbers that they would like to resell, it's important to clarify that you may actually face significant fines if they choose to sell the 800 numbers. An FCC law was passed in 1997 which stipulates that it is illegal to "hoard and warehouse" 800 numbers. Thus, recycling them through your toll free service provider can allow for unused toll free numbers to be relinquished in a perfectly legal way.
Read more on the COM Journal News Feed:
http://www.com-journal.com/owners-fo-unused-800-numbers-urged-to-replenish-supply/
The Toll Free Number Organization at TollFreeNumber.ORG is a world class provider of toll free number services to small and home based businesses in North America. They are a subsidiary of California Online Internet – an Irvine, California USA based company. They began servicing the private sector in 1999 and continue to see strong growth each quarter.
If you would like more information about this topic, please visit the TollfreeNumber.ORG website at:
http://www.tollfreenumber.org/tollfreenumber-org-owners-of-unused-1800-numbers-urged-to-relieve-demand.
You may also visit the website or call 1-800-951-9411 to find 800 numbers plus services for sale.