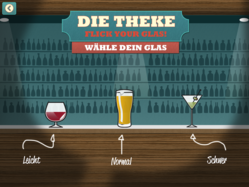 Seehausen (PRWEB) December 01, 2012
Appmaker e.K. enters the iPhone/iPad game market with it's new release "Theke - The Bar Slide Game".
The goal of the skill game is to send different glasses with diverse characteristics down various bars to a defined target area. The closer the glass stops to the target the higher the points. Each glass has different characteristics, each offering a new challenge. You start with a glass of red wine and earn the rest through points. 
For the start, there are 4 different bars, each with 9 levels. Additional bar packages, both free and paid, are planned for the future. 
Obstacles, such as spilled oil or water, challenge players to hone their skills. Through the Game Center, players can compare high scores and compete. 
"Theke - The Bar Slide Game" is available as a universal app for iPhone and iPad. It is also optimized for the larger iPhone 5 screen. 
The App is available in the Apple App Store for $1,99. 
Further information, screenshots and a video presentation of "Theke - The Bar Slide Game" can be found under http://www.appmaker.de/de/dietheke.html.
Appmaker e.K specializes in intuitive software for mobile end devices. The young developer team came together in 2010 and combines attractive design with versatile applications. "My Own Diary HD" was the first product from Appmaker e.K. and has a fast growing fan group and continues to be enhanced.
If you want to know more about "Theke - Bar Slide Game" or Appmaker e.K., don't hesitate to contact us:
Bernhard Harrer
Appmaker e.K.
Auf der Schuchen 9
82418 Seehausen am Staffelsee
Tel.: +49 8841 48733 0
Email: presse(at)appmaker(dot)de
http://www.appmaker.de/en/home.html
Twitter: http://twitter.com/dieTheke
Facebook: http://www.facebook.com/pages/Die-Theke/373039616083776