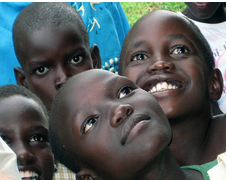 Officer Dave McDowell has a passion for helping children & communities by working with police departments in East Africa.
Los Angeles, CA (PRWEB) December 11, 2012
Currently programs organized through Safe Harbor International are addressing complex survival needs on individuals in East Africa. Food, medical attention, law and order, safety of children-- these are basic human needs in East Africa assisted by Police Officer Dave McDowell and many police officers he has organized through Safe Harbor International, Safe Harbor Police Outreach, and "Operation Safe Child." Dave McDowell reveals hardships faced by inhabitants of South Sudan, Darfur, and Uganda. How can police officers from the United States help communities and peace-officers in these conflicted areas? "Police officers in these African Countries need and want assistance," explains Officer Dave McDowell on Dr. Carol Francis Talk Radio Show (http://www.blogtalkradio.com/dr-carol-francis/2012/10/22/us-police-officers-aid-police-officer-in-sudan-darfur) today.
Dr. Carol Francis interviews Dave McDowell, a police officer from Oregon and California who helps police officers in East Africa to effectively address issues of justice, fairness, and safety. Dave McDowell, in conjunction with many other police officers and professionals who volunteer with Safe Harbor International help families, children, medical professionals, and parents receive needed assistance and protection in these troubled countries of East Africa such as South Sudan, Uganda, Darfur. Dave McDowell's journeys and stories will inspire many to help and others to compassionately understand the complications of East African citizens of all ages.
Dave McDowell is from Bend, Oregon and the Director of International Police Training & Outreach at Safe Harbor International Relief. For more information - McDowell works in conjunction with Safe Harbor International. McDowell's organization can be contacted at http://www.policeoutreach.com/contact_us.aspx
Dr. Carol Francis, Psychologist and Marriage Family & Child Therapist dedicates this and all programs to encourage each of us to Make Life Happen NOW! Helping when we can and never falling short of being all we can be in the short time we have here. Dr. Carol Francis services South Bay Area of the Los Angeles County in Torrance, Manhattan Beach, Redondo Beach, Hermosa Beach, Rancho Palos Verdes, Palos Verdes Estates, Rolling Hills, Rolling Hills Estates, El Segundo, San Pedro, Long Beach- California. Call 310-543-1824 for one-to-one session on line or in person only. drcarolfrancis.com.