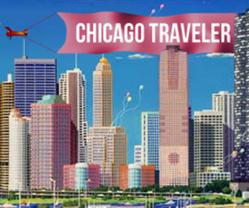 Chicago, IL (PRWEB) December 01, 2012
Chicago is a popular destination for food lovers of every kind, from the most refined palates to hot dog eating champions. For vacationers, it's tempting to try to squeeze the most out of every meal in the city, which often results in having to uncomfortably squeeze into a pair of pants the next day.
There is a way to travel to Chicago and not head home heavier. Many of the hotels in Chicago have state of the art fitness centers, personal trainers on staff and fun ways to exercise on vacation.
With the holidays coming up, or on any vacation to Chicago, don't let the thought of your waistline keep you from enjoying the deep dish pizzas, heavily-topped hot dogs, Italian beef or an extra slice of cheesecake. Instead, choose a Chicago hotel where you won't feel guilty about pleasing your palate.
ChicagoTraveler.com has ranked the best hotels in Chicago to stay in shape even while indulging in Chicago's famous foods.
5. Best On-Site Personal Trainers: The Peninsula Chicago was voted "America's Healthiest Hotel" by Health Magazine for good reason. Many travelers enjoy the complimentary classes offered every week in the fitness center. Personal trainers offer over 30 different group classes all week long including yoga, strength training and several types of fitness classes held in the pool. There are personal trainers available for more classes as well.
4. Best Hotel For Swimmers: The InterContinental Chicago Hotel's Junior Olympic swimming pool does this title justice to say the least. The indoor pool is heated and beautifully designed. The hotel also features a cardio room, saunas and the spa in the Health Club should not go unvisited. The fitness center takes up three levels of this hotel, making it one of the largest hotel gyms in all of Chicago.
3. Best Hotel For Runners: Hotel Palomar hosts "Running With the Manager" every Tuesday morning at 6:15. The manager leads the group through great parts of Chicago, pointing out attractions and landmarks as the run goes on, taking runners past waterfront views, through the famous city sights and back to the hotel before most of Chicago even wakes up. Runners who enjoy teaming up with their 4-legged friends will enjoy staying at this pet friendly hotel as well, and there are plenty of nearby parks and running paths to run together. There's also a 24 hour complimentary fitness center on-site that is complimentary for guests, right next to the heated, indoor pool.
2. Best Fitness Center: Swissotel Chicago has a penthouse fitness center on the 42nd floor and is one of the only gyms in the area with the PreCor Adaptive Motion Trainer. The PreCor system offers a completely unique, customized workout that makes taking a little while out of vacation a lot less undesirable. It doesn't hurt that this hotel gym has the best views in town either. Sightseeing from a treadmill isn't so bad at all!
1. The Overall Top Pick: The MileNorth Hotel is luxurious, convenient and has something for everyone. Booking a room at MileNorth gets any traveler complimentary access to the 24 hour fitness center and the convenience of being within walking distance to some of the top attractions in Chicago where travelers will surely be spending their time. There are several places to take a jog nearby, even some to enjoy with your canine. The MileNorth is the top choice for the healthiest hotel in Chicago not only because all of the convenient opportunities to stay in shape, but they also offer relaxing spa treatments and have an award winning restaurant that built a menu with the best ingredients and sustainable produce.
While famous for the Chicago Marathon, being one of the most bike-friendly cities in America and it's famous walking tours, Chicago never seems to make any of the lists for "Healthiest Cities in America." Partly because all of the delicious, generally unhealthy, foods are as tempting to tourists as they are locals. Chicago restaurants have made plenty of lists for the best eats in America and there's no shame in taking advantage of the good stuff (food) while in this city. When striving for a bit of balance, these are the top hotels to work off the calories that were well worth every bite.
About ChicagoTraveler.com:
Chicago is one of the top vacation destinations in America famous for their annual events, popular foods, architecture and top sports teams. ChicagoTraveler.com guides travelers to all the best things to do, top places to eat and deals on the best places in Chicago to stay.