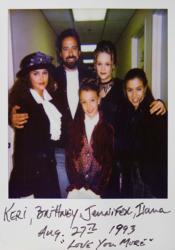 "I'm excited to give the OC teens a real Hollywood work experience. I wish them luck," Gary Spatz.
Costa Mesa, CA (PRWEB) December 14, 2012
The Playground OC created a contest to give its teen acting students and the local Coastline Regional Occupational Program video and film high school students a chance to collaborate. Terri Treas, a teacher at the Playground OC and former television writer producer on such television shows as "Felicity," "Pacific Blue," and "Silk Stalkings," challenged the Playground OC teen-acting students to write and star in a commercial about their experience at The Playground OC. Then she recruited students from the Coastline Regional Occupational Program video and film classes, which are taught in many of the Orange County public high schools, to volunteer as the crew to film the commercials. Crew volunteers came from Northwood High School, Costa Mesa High School and Corona Del Mar High School. Ms. Treas and her diverse crew of women and minorities shot ten commercials in two days.
"I was so impressed with the level of skill from the Coastline ROP high school crew members. I truly believe that the Coastline Regional Occupational Program is growing the creative forces that could dominate Hollywood in the near future. This high school crew was just as professional as any Hollywood crew I've worked with." said Ms. Treas.
The Playground hopes to create many more opportunities for the young OC filmmakers and the Playground actors to work together in the future.
Gary Spatz, founder of The Playground in Los Angeles which expanded to Costa Mesa last spring, was very excited to give the Orange County teen filmmakers and actors the opportunity to collaborate. Gary's roster of past and present students looks like a who's who of young Hollywood. It includes two time Oscar winner Hillary Swank, Elijah Wood, Ryan Gosling, Maggie Gyllenhaal, Jessica Biel, Christina Aguilera, Justin Timberlake, Britney Spears, Keri Russell, Ashley Agota and many more. Gary is the most sought after on-camera acting coach for kids and teens in the film and television industry. The Playground is an on-camera acting conservatory for kids and teens with a two-year curriculum that takes young talent from discovery to mastery.
Meet the new wave of Orange County talent behind and in front of the camera by visiting: http://www.theplaygroundlosangeles.com/oc_contest_2012.html