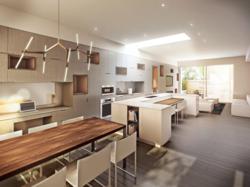 With Lighthaus Brockton you don't have to choose between luxury and living responsibly. You can have both.
Toronto, Canada (PRWEB) December 03, 2012
One of Toronto's most charming neighbourhoods, the west end's Brockton Village, is the setting for a first-in-Canada community of 20 luxury townhomes designed with the European "Active House" principles in mind to be equal parts beauty, comfort, clean, natural light and fresh air. From the foundation up, each townhome is built with energy efficiency, and sustainability of our planet, in mind.
Designed to optimize space, the homes of Lighthaus Brockton, being developed by Great Gulf, are planned with family living in mind and are wider and brighter than any townhome on the market today. The homes range between 2200 - 3386 square feet, are up to 20' 6" wide and come with a two car garage and private backyard terrace. The designers use fresh air, natural light, green space and elegant design features to enhance the well-being of those who will live in them, while minimizing negative effect on the climate in an effort to move us toward a cleaner, healthier and safer world.
"The Lighthaus concept is new to Canada," said Tad Putyra, President and Chief Operating Officer of Low-Rise Development at Great Gulf. "It is designed for a family that likes its space, and likes being close to the action. They get to enjoy their airy, private enclave, surrounded by a tight-knit community, and all just steps away from an energetic street life of a vibrant Queen Street West location. With Lighthaus Brockton you don't have to choose between luxury and living responsibly. You can have both."
Brockton Village is a lively, eclectic neighbourhood; a diverse, vibrant community that is home to new parents, seniors and everyone in between, where artists, musicians, unique shops and restaurants bring life and creativity to the everyday Queen Street West streetscape.
What's unique about a Lighthaus home is the integration of inside and outside – a smooth transition created by artful design that creates a healthy living environment that feels spacious, warm and inviting.
For example, the townhomes are oriented to maximize natural light, aided by the most sophisticated window and skylight technologies. An innovative VELUX Modular Skylight, designed by VELUX and Foster & Partners, opens a three-story lightwell that directs a column of natural light through the centre of the urban home. The skylight at the top of the well is automated to ensure air flow that either cools or warms the home to maximize comfort and minimize energy usage.
"North Americans spend more than 90 percent of our time indoors and so it is important that we maximize the amount of natural daylight in our homes," said Nels Moxness, President of VELUX Canada Inc. "Daylight and fresh air refresh us. They help us think, perform better, and boost our spirits. That's why a Lighthaus home is designed to incorporate as much natural light as possible. To make the time spent indoors more enjoyable, healthy and inviting, and to enhance the well-being of those who live in one."
The homes are situated on the site so large areas of glass on the south facade provide additional light.
Using digital lighting technology, VELUX designers determine the blend of reflective and diffusive materials that will then disperse the light throughout each floor to levels that are optimal for well-being.
VELUX Modular Skylights use automated ventilation technology to provide an interior bathed in light as well as fresh air. The centrally located skylight draws stale, hot air out while pulling, fresh air in. As a result the building no longer depends on mechanic ventilators or air conditioning. Instead it breathes all by itself.
"Every aspect of this community is based on the belief that a home is much more than a box for your stuff," said Mr. Putyra. "We've worked hard to create an uplifting space enriched by beautiful natural light and fresh air, a space that elegantly connects outdoors and indoors, using interior design, architectural features, and beautiful landscaping to tie it all together."
Each home in the private Brockton Village community is custom-designed by an integrated team of experts, including interior designers Cecconi Simone, STAMP Architecture, landscape architect Janet Rosenberg & Studio, and Great Gulf's engineering and construction teams. Each features its own green space as well as a private community green space.
Being eco-friendly is another critical element of the Lighthaus design. Each is highly energy efficient, with balconies, awnings and skylights to minimize heating and cooling throughout the year. Designed to meet Energy Star standards, with advanced mechanical systems, Low-E argon gas filled glazing on windows and skylights, insulation on interior and exterior foundation walls, and an air barrier system enclosing the entire envelope of the building.
Designers created the interior space to best serve the way real families live. The kitchen, recognized as an important gathering place for most families, is designed for convenience and practicality – a seamless transition from the cook space to the dining space to the living space, linked by built-ins. There are a variety of surfaces for people to gather around, including a prep space for casual dining, and a more formal dining area (for family dinners), and integrated appliances.
Bedrooms are designed to be a peaceful retreat and conveniently functional with an interplay of furniture and design elements. There's never an electrical outlet too far from a phone jack or a lamp. The master bedroom features a large light-filled dressing area, outfitted with his and hers custom built-ins. The master bathroom includes custom designed sinks, a separate tub and shower and a skylight. Well-planned storage recognize the fact that for busy families, having a home that is easily organized reduces stress and provides more time to do things that contribute to well-being, like time with family/friends or pursuing passions.
"Bringing the Active House concept to Canada in a Lighthaus community is an important development for the home building sector," said Mr. Putyra. "It's a recognition that many families don't want to have to choose between city and suburban amenities, or between luxurious living and being environmentally responsible. With Lighthaus, they can have it all."
About Great Gulf
Since 1975, The Great Gulf Group of companies has grown from a regional home builder into one of North America's premier real estate organizations. With a host of new projects in Canada and several major U.S. cities, the company's fully-integrated activities span the entire real estate spectrum. The Great Gulf Group includes Great Gulf, Ashton Woods Homes, First Gulf Corporation, Tucker HiRise Construction, Brockport Home Systems Ltd. and Taboo Resort Golf and Spa.
For More Information Please Contact:
For Great Gulf:
Ketchum Public Relations Canada
Nicole McKnight
416-355-7424
nicole(dot)mcknight(at)ketchum(dot)com