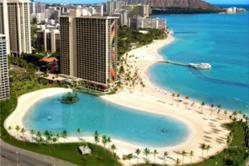 Poipu, HI (PRWEB) December 05, 2012
Maui'd Forever, a full service wedding planning firm that books travel to Hawaii for their wedding, vow renewal and civil union clients lauds the FTC for their efforts to curb abuse in the resort fee surcharge.
In a November 28, 2012 press release The Federal Trade Commission has warned 22 hotel operators that their online reservation sites may violate the law by providing a deceptively low estimate of what consumers can expect to pay for their hotel rooms.
Mark Steffan owner of Maui'd Forever tells us, "It took some time for us to learn to educate our clients about these fees. When resorts first started charging these fees many of our client were surprised. Now we know to look for them and advise our clients. We feel that the whole travel industry has gone the route of charging for extras that used to be included in standard pricing as a deceitful way to compete on price."
Those warning letters cited consumer complaints that surfaced at a recent conference the FTC held on "drip pricing," a pricing technique in which firms advertise only part of a product's price and reveal other charges as the customer goes through the buying process. According to the FTC letters, "One common complaint consumers raised involved mandatory fees hotels charge for amenities such as newspapers, use of onsite exercise or pool facilities, or internet access, sometimes referred to as 'resort fees.' These mandatory fees can be as high as $30 per night, a sum that could certainly affect consumer purchasing decisions." The warning letters also state that consumers often did not know they would be required to pay resort fees in addition to the quoted hotel rate.
"Consumers are entitled to know in advance the total cost of their hotel stays," said Federal Trade Commission Chairman Jon Leibowitz. "So-called 'drip pricing' charges, sometimes portrayed as 'convenience' or 'service' fees, are anything but convenient, and businesses that hide them are doing a huge disservice to American consumers."
The letters strongly encourage the companies to review their websites and ensure that their ads do not misrepresent the total price consumers can expect to pay.
Maui'd Forever is happy to disclose all fees when known and will not hide any charges within their stated wedding, vow renewal and civil union packages. They also state these fees for their Hawaii travel packages.