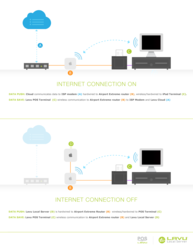 Adding Lavu Local Server gives us peace of mind knowing that no matter what may be going on outside the restaurant... our point of sale system will be up and running at full speed.
Albuquerque, NM (PRWEB) December 04, 2012
New product Lavu Local Server (LLS) solves the biggest problem facing cloud-based restaurant point of sale: loss of Internet connection. LLS by software developers Lavu Inc is an in-house server that business owners can rely on to continue daily restaurant operation with or without a reliable Internet connection. LLS is an accessory to the POS Lavu iPad point of sale.
"With our business steadily increasing, POS Lavu has become a vital part of our operation. Adding Lavu Local Server gives us peace of mind knowing that no matter what may be going on outside the restaurant, such as connection issues with our ISP, our point of sale system will be up and running at full speed," reports Rafael Tigay of Cozy Oaks in Lakeland, Florida. "When running Lavu Local Server everything is kept on our local network which means everything runs a little bit quicker as well."
Running on Apple technologies, LLS is a dedicated server installed on a Mac Mini computer. Since the server is setup in-house, a business can continue operating even when there is no Internet connection to the cloud servers. As soon as the connection is restored, all of the latest sales data will be automatically uploaded and synced to the cloud.
Real-time cloud-based systems have many advantages over traditional point of sale solutions. With cloud software and services, businesses can now store, access, and manage their sales data remotely, in real-time, in ways that were previously not possible. Yet there is an inherent challenge for restaurants, cafes and bars who use the cloud -- the Internet.
As a platform, the Internet is not perfect; even a perfectly configured system may experience some form of downtime. Internet downtime is the main reason restaurant owner's are slower to advance to new cloud technologies. Therefore, the challenge for all cloud-based software developers is to protect the flow and processing of data to ensure a business can be productive, even in times of a poor Internet connection.
This Internet "connection" is actually a series of links in a chain, and any one of these "links" can be the culprit that can interfere with business / cloud communication. Besides the wireless routers, points of failure can include the business' Internet Service Provider (ISP) and point of presence (POP), network access points (NAPs), and then multiple DNS servers and the network routes and server to the final servers, etc.
In addition to speeding up service and bridging the gap during Internet downtime, LLS has other benefits. The LLS Print Queue is an upgrade to the LLS. Print Q utilizes the MacMini as a print server and queues print jobs sent to printers, making sure each individual ticket is sent to the printer before sending the next. Alerts from the Lavu software allow you to address a malfunctioning piece of hardware.
"We understand the concerns with cloud-based POS and are attacking the weaknesses so that our customers can enjoy the benefits with confidence," said Corey Fiala, lead developer at Lavu Inc. "Our Local Server is just one of the many safety-nets Lavu has set in place to insure confidence in our solution."
In addition Lavu has improved their service by allocating resources to the following:

Multiple disc redundancy (Raid5)
Nightly data backups
Load-balanced servers
Database replication
LLS is currently available from Lavu Inc, who recommend contacting a Certified Lavu Distributor to install.
Used globally in 56 countries, POS Lavu was the very first iPad point of sale in the Apple App store. Developed for restaurants, clubs, coffee shops and food trucks, Lavu is full-featured and utilizes cloud technologies. Updates are free, and initial costs are up to seventy five percent cheaper than other comparable options. POS Lavu is regularly featured on Fox network's TV program Kitchen Nightmares. More information is available at poslavu.com
###