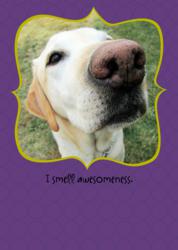 Hallmark judges looked for cards with photography and writing that worked well together and could be sent to all types of pet-lovers.
KANSAS CITY, Mo. (PRWEB) December 03, 2012
Today's pets are more than just loved, they are part of the family. With that dedication in mind, Hallmark today announces the winners in its recent card-creation contest, "All About Pets." Greeting card hopefuls were invited to use a photo and original writing to create fun, sweet, or silly cards to say happy birthday, congratulations, or thank you to a fellow pet-lover.
Contestants submitted their creations in October. The 38 winning designs will be sold on Hallmark.com starting in December. In-store winners will be announced and featured in Kroger stores in June 2013. Winners each receive $250 and could win an additional $250 if their cards are chosen for in-store sales.
Hallmark judges looked for cards with photography and writing that worked well together and could be sent to all types of pet-lovers. Participants could enter a total of four cards—two birthday, one thanks, and one congrats. Entrants were encouraged to check out the Hallmark Contest Facebook page for tips on this contest.
This is Hallmark's 38th consumer-created card contest. The 37 winners are from 22 different U.S. states and two provinces of Canada. One winner won two different card entries. Here are the winners in Hallmark's "All About Pets" competition:
Katie Abrams
Marshfield, Mo.
Andrea Auletta
Fullerton, Calif.
Kristin Beindorf
Defiance, Ohio
Leslie Brown
Westminster, Colo.
Brook Burling
Wisconsin Rapids, Wis.
Eva Carter
Dallas, Texas
Angela Clark
Thornton, Colo.
Judy Cotrone Ramirez
North Port, Fla.
Lisa Crisafi
Trinity, N.C.
Frank Fassbender
Coopersburg, Pa.
Jenny Fenlason
Minneapolis, Minn.
Angel Fischer
Ashburn, Va.
Amanda Flores
Rockville, Md.
Kelly Fosnow
Tega Cay, S.C.
Bridget Fullerton
Toledo, Ohio
Sylvia Green
San Jose, Calif.
Judith Gullickson
Peoria, Ill.
Janine Jastrab
Saint Charles, Ill.
Kelly Jorgensen
Quebec, Canada
Mikki Kramer
North Aurora, Ill.
Lexie Langley
Kingwood, Texas
Suzan Mandla
Ontario, Canada
Rebecca Meinders
Pecatonica, Ill.
Jennifer Monforton
Albuquerque, N.M.
Glenn Nagel
Orland Park, Ill.
Jacklyn Niblett
Mt. Prospect, Ill.
Laura Parente
Fayetteville, Ga.
Alyssa Petrucelli
Mahopac, N.Y.
Connie Pullen
Eagle Creek, Ore.
Tom Rovito
Cincinnati, Ohio
Summer Ruegger
Boring, Ore.
Mar Sension
Altoona, Pa.
Nette Shaff
Boise, Idaho
Jinger Titus
Wichita, Kan.
Michelle Vaccaro
Los Gatos, Calif.
Ann Westphal
Cheshire, Conn.
Melissa Wheeler
Bannister, Mich.
About Hallmark Cards, Inc.
Hallmark makes the world a more caring place by helping people express what's in their hearts and spend time together – a privilege few other companies in the world enjoy. Hallmark greeting cards and other products are found in more than 38,000 retail outlets in the United States, including the network of flagship Hallmark Gold Crown® stores. The brand also reaches people online at Hallmark.com and on television through Hallmark Hall of Fame original movies and cable's top-rated Hallmark Channel. Worldwide, Hallmark offers products in more than 30 languages available in 100 countries. This privately held company is based in Kansas City, Mo., and is led by the third generation of the founding Hall family. Visit http://corporate.hallmark.com for more details.