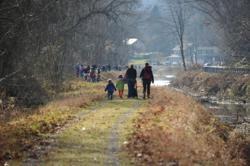 To start 2013, we're offering over 500 hikes nationwide and inviting kids and adults to get their hearts pumping and experience the beauty of our State Parks.
Washington D.C. (PRWEB) December 03, 2012
Rejuvenate by taking a family-friendly trek through a state park close to home.
America's State Parks announced that state park systems across the country will sponsor over 500 guided First Day Hikes on New Year's Day 2013. America's State Parks First Day Hikes offer individuals and families an opportunity to begin the New Year rejuvenating and connecting with the outdoors by taking a healthy hike on January 1, 2013 at a state park. First Day Hikes offer a great way to get outside, exercise, enjoy nature and welcome the New Year with friends and family. America's State Parks First Day Hikes launched in all 50 states on January 1, 2012.
"Last year, we offered 400 hikes and 14,000 participants logged over 30,000 miles in our state parks in all 50 states," said Priscilla Geigis, President of the National Association of State Park Directors (NASPD). "To start 2013, we're offering over 500 hikes nationwide and inviting kids and adults to get their hearts pumping and experience the beauty of our State Parks. These local treasures provide the perfect environment to get naturally healthy. Whether you're staying close to home or traveling, we invite everyone to join us at one of America's State Parks on New Year's Day!"
"Getting outdoors and connecting to the natural world is one great way to relieve the stress of work and school and relax in the quiet calm of these wonderful natural settings." stated Phil McKnelly, NASPD's Executive Director. "We hope that hiking along a trail in a state park will become part of an individual's or family's regular exercise routine."
America's State Parks boast a variety of beautiful settings for year-round outdoor recreation, and each First Day Hike will offer an opportunity to explore the unique natural and cultural treasures close to home. From California to Maine, hikers can climb hills and mountain tops, walk along ponds and beaches, and traverse trails through forests, fields and prairies. Visitors can listen to birds, breathe in the fresh air, discover wildlife tracks, feel the wind and the warmth of the sun or the coldness of the snow. Visitors can expect to be surrounded by the quiet beauty of nature in winter, experience spectacular views and vistas, and benefit from the company of a knowledgeable state park guide.
First Day Hikes originated over 20 years ago at the Blue Hills Reservation, a state park in Milton, Massachusetts. The program was launched to foster healthy lifestyles and promote year round recreation at state parks. Last year marked the first time all 50 state park systems joined together to sponsor First Day Hikes, offering 400 hikes nationwide.
State park staff and volunteers will lead the hikes, which average one to two miles or longer depending on the state park. Details about hike locations, difficulty and length, terrain and tips regarding proper clothing are listed on the America's State Parks website. Visit http://www.americasstateparks.org/first-day-hikes and click on your state of interest to find a First Day Hike nearest you.
America's State Parks is committed to promoting outdoor recreation in state parks as a way to promote healthy lifestyles, especially among children. Getting kids outside creates a unique connection with nature that promotes physical and emotional well-being and encourages creativity and stewardship of our shared resources.
###
The mission of the NASPD and America's State Parks is to promote and advance the state park systems of America for their own significance, as well as for their important contributions to the nation's environment, heritage, health and economy.