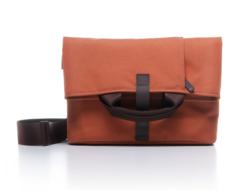 PASADENA, CA (PRWEB) December 03, 2012
Tis' the season for tons to tech and just in time for the holidays, Bluelounge is proud to deliver a brand-new style to its Eco-Friendly Bag line, the Postal Bag. Part messenger, part tote, the Postal Bag gives consumers the option to carry as much or as little as they like making it the perfect holiday gift for gadget gurus and commuters alike.
As a messenger, the Postal Bag can carry up to a 13" laptop and is complete with a shoulder strap and pockets to accommodate smaller gadgets, cords and personal effects. When used as a tote, the bag expands to carry up to a 15" laptop and has top handles and a compartment to conceal the shoulder strap.
Made of 100% recycled PET bottles, the Postal Bag is part of Bluelounge's Eco-Friendly Bag series that is earth-friendly, helping to reduce the amount of waste put into landfills each year. The series utilizes the highest quality materials and features a coated fabric that provides moisture resistance to keep gadgets protected in all weather conditions.
The Postal Bag is available in Rust at a suggested retail price of $128.95. Bluelounge products are currently available online and at select retailers worldwide. To find a retailer nearby, please visit our store locator.
For more information on Bluelounge products, visit http://www.bluelounge.com. You can also follow Bluelounge on Twitter at twitter.com/bluelounge and on Facebook at facebook.com/bluelounge for the latest news on Bluelounge products.
About Bluelounge
Founded in 1999 by designers Dominic Symons and Melissa Sunjaya, Bluelounge is a multidisciplinary design studio that creates a synergy of product, graphic and interactive design, as well as original illustration. Bluelounge-brand products are available at over 100 U.S. locations and through 35 international distributors, promotional agents and licensees. Bluelounge has offices in Los Angeles, Singapore and Jakarta, Indonesia. In addition to their own branded products, Bluelounge has undertaken design commissions for major corporations such as Airwalk, Microsoft, Panasonic, and Trina Turk.
Note to reporters: high-resolution images of Bluelounge products are available for download at: bluelounge.com/media.
# # #
Media Contact:
Hans Bardenheuer
Bluelounge
P | 310.880.5615
hans (at) bluelounge (dot) com