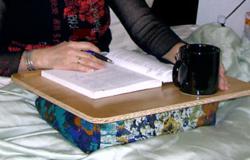 Treat yourself to luxury with these eight ways to improve your life.
Eugene, Oregon (PRWEB) December 04, 2012
Lap of Luxury Lap Desk wants their customers be happy and healthy. Here are eight ways that they have determined using a lap desk will add these values.
1. Decrease muscle strain and pain: Bending over a book perched on a lap, twisting to use the arm of a couch, or leaning over a lap top computer can increase neck and back pain. A large Luxury Lap Desk provides a full 5" of lift allowing the back and neck to assume more normal curves.
2. Protection: The flat surface of the Luxury Lap Desk protects both the customer's lap and his/her laptop from excess heat.
3. Get what you want: Its always fun and satisfying to find a company that will make you just what you want. We do custom sizes: extra width, extra or less depth, shallow, deep or no pencil ledges, custom fabrics.
4. The perfect gift: Who doesn't like to occasionally sit in front of the TV while they're eating? These days who doesn't have a laptop or an I-pad? These large and small desks are useful for all ages and make a heirloom quality gift
5. Add beauty: The tops of these desks feature either blond bamboo or lovely grained wood in cherry and maple. The fabrics are of excellent quality. There are more than sixty fabrics on-line; in conjunction with the three tops, the opportunity to create a furniture accessory that matches your home decor is excellent.
6. Fun: Its fun to work on the couch, a favorite chair, or even in bed. Its handy to have a flat surface amongst the bedding for a DVD player, computer, I-pad, etc. Two lap desks are even better; now you can work on one and have a snack on the other.
7. Great for kids in the car: When traveling with children in car seats, the small lap desk provides a great surface for playing and eating. It fits right between the arm rests. Older kids will appreciate the surface and the pencil ledge for their electronic devices, as well as reading, drawing, and eating.
8. Great for adults in the car too: Do you work in your car? The small lap desk with the 3/8" pencil ledge is perfect for doing calculations, Internet work on I-pads and tablets, filling out order forms and receipts books etc.
Luxury Lap Desks wishes all our customers a Happy Holiday and hopes these tips are helpful in the search for meaningful ways to treat themselves to luxury every day.
Since 2005, Lap of Luxury Lap Desks has made products that allow users to work away from a table or desk with support and ease.