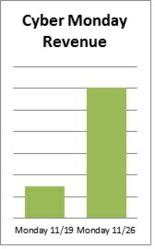 On Cyber Monday 2012 more people shopped and purchased items from their smartphones than on any other day in history, literally.
Boston, MA (PRWEB) December 03, 2012
Leading mobile commerce service provider Unbound Commerce released numbers today showing the impact of Cyber Monday on aggregate mobile commerce transactions.
Total revenue generated by retailers utilizing Unbound's integrated mcommerce platform surged 410% on Cyber Monday, as customers reached for their smartphones to shop and covert purchases in record numbers.
In comparison to the Monday previous, the total number of transactions jumped 311% and the number of unique visitors to the average Unbound-provided mobile site increased 59%.
The total number of pageviews displayed by mobile sites built and deployed by Unbound increased 84% on Cyber Monday.
Not only did aggregate sales revenue increases dramatically, but consumer engagement metrics jumped as well. For example, average mobile site visit duration increased 23% and the average number of pages viewed per site visit increased 13%.
Although not tracked as revenue in the analytics dashboard, "mobile influenced" sales were also at an all-time high, according to retailers reached by Unbound last week. These "mobile influenced" sales take the form of mobile click-to-call, in-store purchases made after mobile discovery, social media shared links, and the emailing of product page details later converted into sales on the standard website.
Also, first time visits to the mobile commerce sites within the Unbound network reached an all-time high, representing over 76% of all visits. This means smartphone owners are discovering retailer's mobile commerce sites in record numbers.
"Mobile commerce is no longer a nice-to-have fringe concern for retailers," said Srinivasarao Nandiwada, Founder and CTO at Unbound Commerce. "On Cyber Monday 2012 more people shopped and purchased items from their smartphones than on any other day in history, literally. We are pleased to provide retailers and brands with an integrated solution that allows them to take maximum advantage", he added.
According to an IBM Benchmark report also out this week, year-to-year total Cyber Monday mobile sales were up 96% (versus 2011), a remarkable testament to the rise of mobile commerce in 2012 and the importance of having a mobile-optimized site.
About Unbound Commerce
Unbound Commerce is the leading solution provider for retailers and brands seeking to capitalize on the booming adoption of mobile and social commerce by consumers. 360+ retailers currently use the Mobile Presence® platform, and the Mobile Commerce Data Book from Internet Retailer identified Unbound Commerce as the #1 mobile commerce solution provider in the space. Retailers of every size choose Unbound for integrated mobile commerce sites, commerce-enabled apps, tablet commerce sites and apps, and Facebook stores. For additional information, please visit http://www.UnboundCommerce.com.