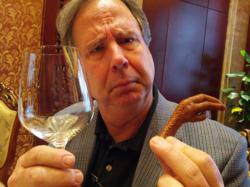 If the wine industry wants to reach beyond the limited, prestige-driven nouveau riche market in China it is going to need to change its strategies,
Napa Valley, CA (PRWEB) December 03, 2012
If the wine industry wants to reach beyond the limited, prestige-driven nouveau riche market in China it is going to need to change its strategies. Tapping into the Chinese wine market will take alot more than trying to adapt tired wine and food clichés about what wine goes best with jellied tripe, sea cucumber and chili fried eel, according to Master of Wine Tim Hanni of Napa Valley.
Hanni has just returned from a second trip to China where he conducted wine training seminars for Chinese wine industry professionals. Hanni traveled both times at the invitation of the Blossom Group, a major Chinese real estate and construction company that also has a growing wine division and a US office in Houston, Texas.
According to Wine Institute, China, with a population of 1.3 billion people, imported $62 million in U.S. wines in 2011, up 42 percent from the year before. Wine imports to China from the U.S. have increased more than 2,200 percent from $3 million in 2003, the Institute reports, adding that exports for 2012 through July are up 14 percent compared to the same time for 2011.
The people in his training sessions, Hanni noted, "had spent most of their lives being told what they like in music, art and literature. They were waiting for me to tell them what was good wine, what they should like besides expensive red wines from Bordeaux."
Although his group had limited knowledge of wines, enthusiasm was high, Hanni said. He presented seminars based on his New Wine Fundamentals, which he created as "a new conversation about wine," aimed at dismantling prevailing misconceptions.
At the heart of Hanni's new approach to tasting, marketing and enjoying wines is his Vinotyping program, designed to help wine drinkers discover "the kinds of wines they really like instead of the wines they are told they should like," Hanni said.
Hanni argues that prevailing wine industry attitudes do a disservice to people who prefer sweet wines, although many do for a combination of physiological and psychological reasons. The Sweet Vinotype finds robust wines too intense for their taste and craves sweeter wines to mask bitterness, Hanni said.
Hanni's other Vinotypes are Hypersensitive, who prefer smoother wines; Sensitive, who have an adventurous palate; and Tolerant, the wine drinkers who do love the bold, intense red wines. Hanni estimated that 40 percent of the students in his seminars in China were Sweet Vinotypes. "They were really excited at the idea of having the freedom to decide what wine they actually liked," he said.
In addition to discovering their Vinotypes, Hanni's seminars cover wine basics — the major varietals and wines and elements of terroir and winemaking — before tackling what is widely perceived as a challenging task: pairing wines with Chinese foods. This element of The New Wine Fundamentals includes an introduction to wine and food un-pairing and matching wine to the diner, not the dinner," says Hanni.
Part of Hanni's New Wine Fundamentals is this "unpairing" — an approach to food and wine that has been incorporated into the Wine and Spirits Education Trust curriculum. Instead of matching wines with food, Hanni proposes that flavor balancing — adjusting the salt and acidity in a dish — can make it possible for diners to drink their favorite wines with any menu. Although foods with a high level of sweetness or umami can make a wine taste thin or bitter, Hanni cites the Italian classic, Steak Florentine, as a example. Steak, a food rich in umami, can actually adversely affect a wine but the use of lemon and salt restores the wine's taste.
While the concept of flavor balancing is a component of wine cultures like Italy and France, Hanni said he was surprised to discover that it's also present in Chinese cuisine. "You find it on the table," he said, "two little dishes, one with vinegar and one with soy sauce — this provides the natural acidity and salt that restores balance to whatever wine you love the most just like the ubiquitous salt and the lemons on the table in Italy."
Hanni will also conduct a series of wine tasting seminars next year for the Blossom Group. More information on Tim Hanni's programs is available at timhanni.com.
ABOUT TIM HANNI, MW
Master of Wine, Certified Wine Educator
Wine Industry Faculty Sonoma State University
Tim Hanni is an internationally renowned 'flavor maven.' A professionally-trained chef, he is one of the first two resident Americans to successfully complete the examination and earn the title Master of Wine. He is a Certified Wine Educator accredited by the Society of Wine Educators. He has been involved with wine- and food-related businesses, education and research for over thirty-five years. Hanni has a unique perspective on food and wine, providing a modern and innovative approach to the subject. Hanni is recognized for introducing the concept of the "umami" taste phenomenon to the wine and food community. He has lectured in over 27 countries around the world on the topics of flavor balancing, sensory sciences, wine and culinary history.