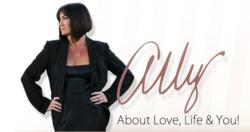 At the Altar in Your Underwear: 40 Secrets to an Amazing Wedding
New York, NY (PRWEB) December 01, 2012
Bestselling author Alexis Asbe's brand new wedding guidebook "At the Altar in Your Underwear: 40 Secrets to an Amazing Wedding and a Better You" is available for the first time on Amazon Kindle. http://www.bit.ly/ally-ebook
At the Altar in Your Underwear is the easy-to-read, easy-to-use bible for brides in the 21st century. From page one to the end, this book is filled with tips and tricks for making the wedding day as perfect as possible, without making everyone crazy in the process. Brides get all kinds of "advice" from reality shows, relatives and magazines - Alexis Asbe simplifies everything down to the core - reminding the bride of everything that is most important to her and her love.
Ann Hendrickson, a mother, grandmother aunt and more, has experienced many weddings. When she read a copy of "At the Altar in Your Underwear," she said, "Forget all other books written on this subject! This book is all you need to create a memorable wedding."
Everyone knows what it feels like to feel "exposed" to the world from time to time, whether or not we are "standing in our underwear." At the Altar in Your Underwear gets brides prepared for that moment when the entire world is watching, and they take their vows to their true love.
This moment will change her life and her love's life, and Asbe hopes that this book will make that moment exactly what it should be - in her words, "about you and your love, with friends and family gathered around."
Alexis Asbe founded one of northern California's leading wedding and special event companies in 1990, and has since worked on more than 3000 events. Her work has been featured on Extreme Make-Over Home Edition and in Modern Bride magazine. With more than 20 years in the design and art business, Alexis has worked with celebrities, royalty and everyone in between. She is devoted to health, love, and family, and she is hopelessly addicted to the stuff that really matters … which drives her husband crazy.
Blooming Twig Books is an independent publishing company with offices in New York and Tulsa, publishing books that matter.