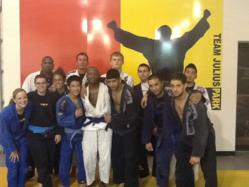 "I staggered him but I couldn't put him away." - Peter Petties
New York, NY (PRWEB) December 02, 2012
Peter Petties wins a three round kickboxing war by Unanimous Decision at Combat at the Capital 29 in New York City.
Peter Petties, a 21-year old Howard County resident entered the ring in New York City's prestigious kickboxing event, Combat at the Capital. His 6' tall adversary Shannon Halstead was an Orthodox (Right Handed) fighter with a hometown advantage.
From the opening bell, the New Yorker looked to overwhelm the Maryland native Petties with aggressive combinations. Unfazed, Petties, a southpaw, stayed in the pocket and outstruck his taller opponent. Halstead found it difficult to press forward due to Petties' lead hook and evasive foot movement. After three rounds of hard fought kickboxing, Peter Petties took the nod from all three judges as the electrified New York crowd's cheers filled the arena.
Peter has been training at Crazy 88 Brazilian for two year and this is his first time fighting in the Big Apple. Despite fighting in a hostile territory, Peter Petties followed his game plan and his coaches' instructions precisely to earn the big win.
"The game plan was to stay in the pocket. Set up my kicks with my punches and try to put him away early in the first round." Exclaimed Petties with a smile. "He was very aggressive and I was able to put my right hook spin off to use, landing clean to his jaw a couple times. I staggered him but I couldn't put him away."
The Crazy 88 Brazilian Jiu-Jitsu product Peter Petties fights out of Elkridge, Maryland under Team Lloyd Irvin, and credits his win to hard work and his great team.
"I put a lot of hard work in this camp and I want to thank my teammates and coaches that kept me going. I am very pleased with my performance now I am ready to go back to Crazy 88 and improve my skills."
Crazy 88 BJJ is home to many of Maryland's premier fighters in Brazilian Jiu-Jitsu, Muay Thai and MMA. For more information about the gym, please visit the website - http://www.BaltimoreMixedMartialArts.com