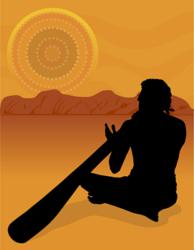 "I've always been mesmerized by the sound of the didgeridoo, and had been looking for someone in New York City who really knew how to play."
New York, NY (PRWEB) December 12, 2012
Taming even the most savage of beasts, this exquisitely hypnotic combination of massage with live didgeridoo accompaniment is the brainchild of musician AJ Block and massage therapist Karina Yanku. The low droning sound of the didgeridoo, along with flowing, rhythmic massage provide an unparalleled sense of deep relaxation for the over-stimulated, overtaxed sleep-deprived Type-A person. This sublime combination of sound, rhythm and touch provides a sanctuary from the stressors of living and working in a noisy urban environment, realigning a sleep-deprived workaholic with the rhythms of the center of the Earth.
The Didgeridoo is the oldest instrument on the planet, rooted in primal earth energy. For over 40,000 years, Aboriginal tribes have used it as a tool for ceremony and healing. The low, hypnotic resonance of this long, wooden, cylindrical wind instrument creates a deep, meditative state, and has been cited as an active treatment for stress relief, imbalance of the female reproductive system and insomnia.
Now, imagine lying on a massage table under the expert hands of Karina Yanku. Inhale deeply, breathing in calm, cleansing breaths, the exhaling all the stress of the day. Sitting on the floor in a far corner is AJ Block, musician and sound healer, centering himself as he prepares to play his didgeridoo. Once she senses you are starting to relax, Karina gives a quick nod to AJ that the session is ready to begin.
Taking a long, deep breath, AJ begins exhaling into the didgeridoo. A faint, low tone starts to emit from the instrument, its volume gradually increasing. He glances once again at Karina, as she begins to establish a rhythm for the massage, starting off with long, full strokes on the back. A musician herself, Karina is gifted with an excellent sense of rhythm, and her 15+ years as a massage therapist has provided her with a keen sense of touch. This combination enables her to organically assess the tempo at which each massage stroke will occur throughout the session, based on your size, muscle tone and texture of your skin. Soon, she and AJ are in sync, glancing at each other occasionally for visual cues: AJ observing Karina's movements, and Karina moving with the rhythmic vibrations coming from the didgeridoo.
"AJ and I met when I was recording my OanaRhythms® CD with João MacDowell", says Yanku. "The music was almost complete, but something was still missing. I've always been mesmerized by the sound of the didgeridoo, and had been looking for someone in New York City who really knew how to play. I wanted to include the didgeridoo in my recording, because it's such an amazing sounding instrument. Who knew I'd find AJ so fast? It was obviously meant to be."
Karina Yanku is the creator of OanaMassage® rhythmic choreographed massage, and the accompanying musical score, "OanaRhythms©™". For more information, email info(at)karinayanku(dot)com. For a video clip of AJ playing the didgeridoo, visit this link: http://karinayanku.com/treatments/massage-with-live-didgeridoo/
###