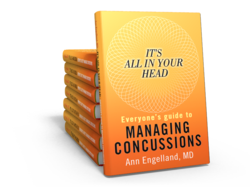 "Stories, pictures and testimonies contribute to the practical advice of a pediatrician."
New York, NY (PRWEB) December 04, 2012
Those who advocate for improved recognition and management of concussion injuries know that it takes a community to Recognize, Respond, enforce Rest and Reassess properly after a head injury. These Four Rs are the foundation of It's All in Your Head: Everyone's Guide to Managing Concussions by Doctor Ann Engelland, a pediatrician specializing in adolescent medicine, school and college health.
The book has been endorsed by Dr Mark Lovell, the CEO of ImPACT Applications, Inc., the primary testing tool embraced by many, from the NFL to public school and recreation leagues throughout the country. Thousands of students are now "baseline" ImPACT tested pre-season and then following a head injury.
Here is what Dr Lovell said about "It's All in Your Head" on the book's website, http://www.ManagingConcussions.com: "Very well done and provides practical and important information for medical professionals, athletes, parents and coaches."
ImPACT testing is one component of a comprehensive program for recovery from concussion. Although the test cannot diagnose a concussion, it can be helpful in determining when the injured brain is ready to begin a return to play and to learning, studying and work.
"It's All in Your Head: Everyone's Guide to Managing Concussions" is peppered with vivid illustrations and personal testimonies by people of all ages who have experienced concussion in a variety of ways-from tripping on the sidewalk to crashing in a rugby game. It is available in eBook or paperback and is the only practical guideline of its kind written for all in the community who are responsible, from the players themselves to physicians managing their recovery. The Ebook version is rich in links and the paperback version gives step by step help to all who need advocacy as they recover. Ongoing stories, links and helpful advice are also available at the book's website.