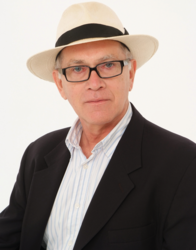 London, England (PRWEB) December 03, 2012
Superior Venture Corp. ("Superior" or "the Company") (OTCQB:SVEN) has appointed Harry Sutherland as a Director Of The Board. In his role with the Company's wholly owned subsidiary, Ilustrato Pictures Limited, Mr. Sutherland will head up the co-creation of feature film projects in partnership with major Chinese film studios tailored to the rapidly expanding Chinese movie market.
Harry Sutherland is a seasoned film producer and movie executive whose career includes over 40 years of film development and studio production. He is also co-founder of the Company's wholly owned subsidiary, Ilustrato Pictures Limited.
Mr. Sutherland has been active in the Canadian film industry since the early seventies. He has worked for organizations including the National Film Board of Canada's Challenge For Change Program and the National Film Theatre of Canada. He has also had an active career as an independent producer with projects including We're Funny That Way for HBO and CITYTV, My Son The Tattoo Artist for CITYTV and Madame President for the Canadian Broadcasting Corporation.
Mr. Sutherland has been the co-chair of the Documentary Organization of Canada and a board member of Hot Docs. He currently serves on the board of the Whistler Film Festival.
Harry Sutherland's Producing credits include:

"ScaredSacred", 2005, by Velcrow Ripper, a theatrical documentary which won the Special Jury Prize at the Toronto International Film Festival, the Genie Award for best documentary and opened the Canadian Images section of the Vancouver International Film Festival;
"Eighteen", 2006, Richard Bell's first dramatic feature starring Carly Pope, Brendan Fletcher, Alan Cumming and Ian McKellen. Distributed in the US by TLA Distribution and internationally by Artistry;
"The Lost Secrets of Ancient Medicine", 2006, a feature documentary on Tibetan medicine, for NHK Japan, CBC, VisionTV and ARTE France. A Japan-Canada co-production;
"Gitmek": My Marlon & Brando, 2007, Feature film directed by Husein Karaby, Best New Feature prize at Tribeca International Film Festival;
"We're Funny That Way", 1995, feature documentary for HBO and CityTV
Mr. Sutherland is widely accepted as a significant contributor to the international film development community and a patron of independent film. His list of producer credits includes feature film projects, independent movie productions and movies produced for television.
About Superior Venture Corp.
Superior Venture Corp. is a US based public company. Its wholly owned subsidiary, Ilustrato Pictures Limited is an international motion picture development and production company seeking to co-create feature film projects with Chinese film companies. All of its projects are financed, produced and distributed in partnership with domestic Chinese companies. Ilustrato Pictures has developed extensive infrastructure and distribution networks in China –the fastest growing and most dynamic movie market in the world.
For more information see http://www.superiorventurecorp.com
Contact:
Investor Relations
Tel: +44 (0) 207 543 7720
###
Cautionary Statement Regarding Forward-Looking Information
This press release may contain certain "forward-looking statements" relating to the business of Superior Venture Corp.. All statements, other than statements of historical fact included herein are "forward-looking statements" including statements regarding the advantages of Superior Venture's products and services, anticipated advantages resulting from the merger, whether funding anticipated from completing the merger will result in successful completion and development of the film development component of the business and its market acceptance, the business strategy, plans and objectives of the Company and Ilustrato Pictures Ltd.; and any other statements of non-historical information. These forward-looking statements are often identified by the use of forward-looking terminology such as "believes," "expects", "intended" or similar expressions, involve known and unknown risks and uncertainties. Although the Company believes that the expectations reflected in these forward-looking statements are reasonable, they do involve assumptions, risks and uncertainties, and these expectations may prove to be incorrect. Investors should not place undue reliance on these forward-looking statements, which speak only as of the date of this press release. The Company's actual results and ultimate corporate actions could differ materially from those anticipated in these forward-looking statements as a result of a variety of factors, including the perception of investors of the newly merged company and their willingness to fund this newly public company, the demand for films and film development, new products and services developed by other companies, market share garnered by competitors, ability to maintain customer and vendor relationships, and those factors discussed in the Company's periodic reports that are filed with the Securities and Exchange Commission and available on its website (http://www.sec.gov), among other factors. All forward-looking statements attributable to the Company or persons acting on its behalf are expressly qualified in their entirety by these factors. Other than as required under the securities laws, the Company does not assume a duty to update these forward-looking statements.