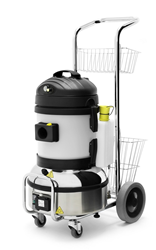 Daimer® is excited to offer our KleenJet® Mega 1000CVP - ATIS®, a commercial steam cleaner proven by one of the U.S.A.'s most recognized bacteria testing labs to exterminate some of the most dangerous germs and bacteria ...
Woburn, MA (PRWEB) December 03, 2012
Daimer Industries, Inc.®, the world's leading brand of high-grade steam cleaning machines, including high temperature wet steam pressure washers, versatile portable carpet extractor systems, high pressure industrial steam cleaner machines, and variable temperature carpet steam cleaner systems, has released the company's KleenJet® Mega 1000CVP - ATIS® for retirement homes and other health facilities. The advanced model from America's leading brand of vapor steam cleaner systems features temperatures up to 356ºF and pressure levels as high as 105 psi, and comes with critical, scientifically proven, anti-bacterial features that kill MRSA and other devastating bacteria, which has been responsible for the deaths of thousands of people as well as billions of dollars in health care costs.
"High rates of functional disabilities and dementia in older Americans lead to a growing population moving into retirement homes or assisted living facilities. Grouped living, lower immunity, and multiple health conditions provide the perfect environment for outbreak of infections. Disease-causing pathogens can survive on floors, furniture, and other surfaces even after the best cleaning efforts," says Matthew Baratta, spokesperson of Daimer Industries, Inc.®. "Daimer® is excited to offer our KleenJet® Mega 1000CVP - ATIS®, a commercial steam cleaner proven by one of the U.S.A.'s most recognized bacteria testing labs to exterminate some of the most dangerous germs and bacteria. Daimer® is proud to offer vapor steam cleaners that can help curb outbreaks of infections in retirement homes."
The rugged professional steam cleaner comes with the company's unique, patent-pending Advanced Thermal Ionic Sanitization™ (ATIS®) antibacterial technology guaranteed to eliminate up to 99.99 percent of the most dangerous pathogens. Independent laboratory tests have established the capability of the simultaneous extracting portable steam cleaner to accomplish a kill rate of 99.99 percent for E. Coli, MRSA, Salmonella, Aspergillus niger, Listeria, and more. The HEPA filter and ATIS® technology combine to eliminate and capture most germs on many surfaces while the system features outstanding air purification.
Many strains of bacteria can survive the use of the strongest disinfectants. This distressing fact necessitates the use of state-of-the-art commercial steam cleaner machines featuring high temperatures that some of the most serious pathogens are unable to withstand. Many of Daimer®'s commercial and industrial steam cleaner systems are empowered with high steam temperatures, HEPA filtration, and exclusive anti-microbial functions to help ensure complete elimination of a host of deadly pathogens from most hard surfaces.
Studies show about 2.8 million residents in retirement homes are affected by potentially deadly infections every year. Pneumonia and urinary infections are the most common of health issues leading to 365 cases of hospitalizations for every 1000 cases reported. May infections can spread through improper hygiene, ineffective cleaning techniques, and lack of proper food safety.
The powerful HEPA filtration system, dry vacuuming functionality, and Water Capture features integrated within Daimer®'s KleenJet® Mega 1000CVP - ATIS® not only target MRSA and other bacteria, but also ensures the effective extraction of bed bugs, dust mites, pet hair, hair, pollen and a range of other allergens from carpets, mattresses, upholstery, furniture, and almost all other surfaces in retirement homes.
The Mega 1000CVP - ATIS® is an extremely robust tile and grout cleaning machine, and its wet vacuuming functionality helps effectively extract moisture. The machine is a better and more productive system than other brands' towel-based models that require less sophisticated and productivity reducing steam mopping instead of the faster Daimer® steam vacuuming. Although the machines can clean spots and areas of carpeting, they are not considered carpet steam cleaner machines.
By creating temperatures of up to 356ºF and pressure levels of 105 psi, the KleenJet® Mega 1000CVP - ATIS® efficiently dissolves most build-up, including dirt, hardened food residues, and most other substances. The exceptional cleaning action of the hot steam generated by the vapor steam cleaner helps cleaning professionals avoid the use of harsh cleaners and disinfectants that can trigger health risks and breathing issues in the aged residents in retirement homes. The continuous refill action of the machine enables operators to work continuously throughout any job without needing to shutdown the machine to refill.
To help maintain a range of surfaces in retirement homes with the minimum of effort or time, Daimer®'s KleenJet® Mega 1000CVP - ATIS® steam cleaner machines is bundled with an exciting array of over 36 accessories, including different types of brushes, nozzles, vacuum hoses, floor tools, and other useful tools.
For Additional Information:
For more details on the KleenJet® Mega 1000CVP - ATIS®, visit the Daimer® website http://www.daimer.com/ or contact Matthew Baratta at (888) 507-2220. The steam cleaning systems are exported globally to most nations.
About Daimer Industries, Inc.®:
Daimer Industries, Inc.® is a global leader in feature-rich and powerful cleaning machines including high performance steam vacuum cleaners, superior carpet cleaning machines, outstanding floor steam cleaner systems, industrial grade truck mount carpet cleaning equipment, sophisticated auto detailing systems, tri-mode pressure washers, and hundreds of other models including advanced, exclusive technologies for most applications.