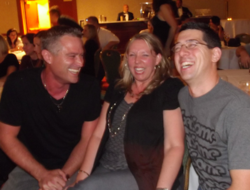 Through our mastermind group, we trusted each other completely, and knew our complementary strengths would create great results.
Northville, MI (PRWEB) December 03, 2012
Three wine-loving friends, each living in different states, have teamed up to create online wine-gift recommendation resources for businesses and individuals shopping for highly-rated wine or wine-themed gifts to send this holiday season.
Tricia Meyer, Eric Nagel and Todd Farmer are co-founders of the "Wine Club Group", the joint venture that produces their websites, videos and buying guides - all of which revolve around wine club reviews.
The three partners review and rate "wine of the month clubs" (a.k.a. "wine clubs") and other select wine-related gifts. The products and services they recommend are not produced by the Wine Club Group; rather, they review products from the many companies that market wine clubs, like WSJ Wine Club, Zagat Wine Club and Laithwaites Wine Clubs., among countless others.
"Wine Clubs are a perfect gift to send to wine lovers," says Farmer. "When someone receives delicious wine over the course of a few months or a year, you are remembered with every delivery. Your gift really stands out. That's one of the key reasons we chose Wine Club Reviews as our specialty."
For one full year prior to launching the Wine Club Group, the three friends were informal business advisors to one another, by participating in a self-directed "mastermind group", where they discussed their own businesses and helped each other achieve individual business goals.
Although each of the three friends have their own unique and different online businesses, the challenges they face are similar in nature. With their varied business experiences, each person in the group brought different perspectives and insights.
By meeting for one hour once a week, the friends were able to advise and assist each other on topics ranging from "identifying business opportunities" to "emergency crisis management". This support provided positive results for each of their individual businesses.
With the trust gained between the friends from their mastermind group experiences, Nagel initiated a conversation with Meyer and Farmer to explore adding a new dimension to their relationship. He proposed the three consider a joint venture.
Nagel explains, "After a year of getting to know our work ethic, and recognizing our complimentary skill sets, I knew we had to build a site together. I had been contemplating Wine-of-the-Month Clubs as a niche, and since all three of us love wine, I thought that would be a great place for us to start".
Ironically, this joint-business discussion occurred after the three friends delivered a presentation about their mastermind group, to an audience of online marketing professionals attending Affiliate Summit in January 2012.
"The presentation was extremely well-received and inspired several people in the audience to start their own mastermind groups," remarks Meyer. "Among all the questions we received during our presentation, most people wanted to know if we were working together on projects or if we had become official business partners."
She continued, "After a number of these questions, I really wondered why we hadn't already teamed up!"
Within three months after this presentation, and the ensuing "new joint venture business discussion", the three online marketing professionals developed a partnership agreement, created their Affiliate Marketing Plan and launched their first website.
Their new joint venture, the Wine Club Group, would focus on helping businesses and individuals find the right wine gift, by reviewing and rating various wine clubs and marking recommendations based on their findings.
Their first wine-gift resource, "Wine Club Reviews And Ratings" found at WineClubReviewsAndRatings.com is home to their full wine club reviews and recommendations, including video reviews and "unboxing videos".
"We each have different tastes in wine", says Farmer, "so we each have a different perspective and wine preferences. I strongly prefer Red Wine, while Tricia is slightly partial to White Wine, and Eric will drink pretty-much anything you put in front of him,"
Meyer rebuts, "Come on Todd, you know Eric prefers Pinot Noir. But yeah - he will drink anything."
Nagel comments, "You guys make me sound like a lush. Just for that, I'm sending Todd a delivery of Reisling".
The three friends tease and joke with each other quite a bit, as good friends often do. Their personalities and friendship shows through in their writing and in particular, their videos.
But, they do maintain a level of professionalism when it comes to their business. They deliver high quality, unbiased reviews and recommendations of the products they cover. The resulting websites and resources have been considered very helpful to those seeking to find the right wine club to send as a gift, or for themselves.
About the Wine Club Group:
Wine Club Group can be found at http://wineclubgroup.com where wine clubs can initiate a review of their wine clubs and learn about the related costs and additional advertising opportunities.
Some of the Wine Club Group Sites:
WineClubReviewsAndRatings.com - The Premiere Wine Club Review resource, providing recommendations and detailed reviews and ratings of wine of the month clubs.
http://WineClubsDirectory.com -- The complete directory of wine clubs. Wine Club owners can get their clubs listed via the self-service interface.
http://GiftClubGuide.com -- The guide to "gifts that stand out". Providing reviews of popular and unique "of the month" gifts, including wine clubs and beyond.
WineClubMonthly.net -- The Wine Club Group's official emailed subscription service. Free Wine Club Buyers guide included with free subscription.
About the Founders of the Wine Club Group
Tricia Meyer, founder of http://sunshinerewards.com, a premiere Cash-Back Shopping & Rewards Site and Affiliate Marketing Consultant at Tricia.me.
Eric Nagel, founder of http://cloudbackupreviews.com, an authority on online backup services and is an SEO Consultant and PHP Programmer at EricNagel.com.
Todd Farmer, founder of PerformStreet.com, an online marketing agency and consulting firm and Affiliate Marketing Strategy at AffiliateMarketingPlan.com.
Inquiries
For advertising opportunities or getting your wine products reviewed, or if you'd like professionally written wine-related content to publish, contact Todd Farmer, todd(at)wineclubgroup(dot)com