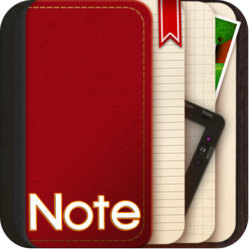 NoteLedge Celebrates Christmas with E-Cards Contest, Special Offers and New Release on Android
Tainan, Taiwan (PRWEB) December 21, 2012
Kdan Mobile, a leading software developer, has launched the Holiday Greetings E-Cards Competition for its reputable note-taking app, NoteLedge for iPad. Participants are able to explore the versatile functionality NoteLedge offers to create individualized greeting cards and win prizes. Following the success of NoteLedge for iPad, iPhone and Windows Phone, the Company announced the release NoteLedge for Android to reach a wider audience. Meanwhile, the multi-platform NoteLedge is being offered at a discounted price of $0.99 to celebrate the upcoming holiday season.
NoteLedge for iPad has been recognized for its patented Navigator, versatile editing functions, a refined user interface resembling real handwriting experience, and creative elements for note customization. With the holiday season around the corner, the Company welcomes users of all ages to design holiday e-cards to share thoughtful ideas with their loved ones via the E-Cards contest. "NoteLedge is more than just a note-taking application, the multifaceted app provides strong multimedia features that challenge users' creativity limit. We've been amazed by how people use NoteLedge to maintain travel journals or even story boarding, all thanks to NoteLedge's strong features," said Chris Su, Product Design Director of Kdan Mobile. "Our goal is to offer a platform for users to showcase creativity and we're glad to see more and more are adapted to do exactly that."
With the latest version of NoteLedge for iPad, users can submit their works through the application and get a chance to win an iPad mini and other Apple products. Submission for the Competition is open from now through January 2nd, 2013. All submissions will be carefully reviewed by the judging panel, and the winners will be announced on January 8th, 2013. Details of the competition are available on the official website of NoteLedge.
Following the success of the NoteLedge series, the Company recently announced the release of NoteLedge for Android. The Android version continues the comprehensive note-taking experience of the series with powerful editing tools, including a full set of styli and brush effects. The fast and intuitive interface allows users to capture ideas instantly, share notes on social networks, and back up files to cloud storages at ease. "The NoteLedge series is designed to optimize users' workflow and inspire users' creativity with its powerful tools," remarked Su. "We are confident that it will take note-taking to the next level for Android users."
NoteLedge is now available on iOS, Android and Windows for a discounted price of $0.99 from December 20 to December 28, 2012.