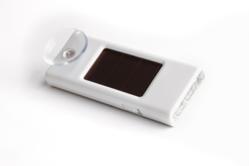 We recommend having hand-crank or solar powered radios, flashlights and cell phone chargers in your kit because of the fact that you can continue to use them almost indefinitely," said Patricia Billinger, American Red Cross Mile High Region
Denver, Colorado (PRWEB) December 05, 2012
For residents of the East Coast, Hurricane Sandy was another reminder of the threat of natural disasters and the primacy of disaster preparedness. It also illustrated the risk of relying on technologies that require batteries, as stores across the Northeast ran out of stock [1]. Solar flashlights and solar mobile phone chargers are already popular among eco-conscious consumers and adventure-seekers, but they are also proving to be indispensable in preparing for emergencies.
"Power is often out for days – sometimes even weeks – following a disaster, so it's essential to include solutions in your emergency kit that meet your basic needs for things like safety, communication and information. We recommend having hand-crank or solar powered radios, flashlights and cell phone chargers in your kit because of the fact that you can continue to use them almost indefinitely," said Patricia Billinger, a spokesperson for the American Red Cross Mile High Region.
Nokero designs, manufactures and collaboratively distributes solar lights and chargers, with 500,000 products sold in over 120 countries. Based in Denver, Colorado, they reached out in the wake of Hurricane Sandy to the local Red Cross office about joining forces.
"After Sandy, we had distributors calling us lamenting they didn't have a warehouse full of our solar flashlights to get to retail stores," said Ron Husney, head of Nokero sales. "Community organizers asked how quickly we could get our solar lights to afflicted neighborhoods and concerned consumers wrote us about teaming up with the Red Cross. That's when we decided to reach out to the Red Cross, so we can ensure solar technologies are well stocked when the next disaster strikes."
Nokero started by enrolling in the free Red Cross Ready Rating program, which helps businesses, schools and organizations become prepared for disasters and other emergencies. An easy to complete survey assesses your current readiness level, and provides a simple plan for improving your score.
"Businesses need to be prepared not only for their own survival, but for the recovery and well-being of the communities in which they're based. If your business can't recover from a disaster, it can't contribute the jobs, services, goods and tax revenues so vital to the greater community's ability to recover," said Troy Staples, business preparedness manager for the Red Cross Mile High Region.
There will unfortunately be more blackouts, hurricanes, tornados, and earthquakes. Reliable, renewable solar powered devices will be an increasingly essential part of preparing for those disasters
You can learn more about the Ready Rating Program at http://www.readyrating.org. Nokero is also donating 10% of the sales of their Antero Window Solar Flashlight to support continuing Red Cross disaster relief efforts.
[1] http://money.cnn.com/2012/10/28/news/hurricane-sandy-businesses/index.html