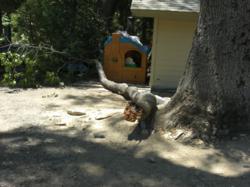 Bergener & Associates was able to prove to jurors that Buelna's life altering injuries were caused by grave negligence.
San Bernardino, CA (PRWEB) December 05, 2012
According to court documents, last month a San Bernardino jury awarded 3 million dollars to a couple following a protracted legal battle. On July 16, 2010, Sabrina Buelna was struck by a rotten falling tree branch right outside the Crestline home she shared with her husband and three small children. She sustained severe injuries to both her legs and feet. By securing the verdict, personal injury law firm Bergener & Associates was able to prove to jurors that Buelna's life altering injuries were caused by grave negligence – not by a freak accident as the defense would have them believe.
Prior to litigating, Bergener & Associates submitted multiple settlement demands for the $1 million policy limits to Farmers' Insurance, the homeowner's insurance in the case. The company refused time after time, countering with negligible offers that would not begin to cover Buelna's medical expenses exceeding $600,000.
After persistent efforts to settle the case quickly out of court, attorney James Bergener filed a complaint with the Superior Court of the State of California in the County of San Bernardino in January 2011. The case number 1101228 went to trial October 9, 2012.
Whenever necessary, Bergener & Associates is prepared to litigate on behalf of clients in order to protect their interests and obtain the best possible settlement. In this case, Farmers' unwillingness to pay out the $1 million policy limits instead led to a jury verdict of $3 million in favor of the Buelna family.
Buelna's husband Charles consulted with personal injury attorneys at Bergener & Associates just days after the accident. It was apparent that the owner and landlord of the property demonstrated extreme negligence by not removing the tree prior to this accident. As stated in the court filing, there had been past incidents of fallen branches resulting in damages as well as previous branches removed due to tree rot. The filed complaint names landlord Mick Hill as the defendant in the case.
Farmers' Insurance maintained that Hill denied any knowledge of the tree in question having previously shed branches. Careful investigation detailed in court documents by Bergener & Associates revealed that Hill purchased the property when it was already damaged, proving his full knowledge of the risk to his future tenants.
Additionally, according to documents filed with the San Bernardino County Court, Hill was a professional landlord at the time Buelna was injured. The complaint goes on to say that he and members of his family were in the business of residential construction and home improvements including landscaping and tree maintenance. It was therefore likely that Hill was aware that the tree posed extreme danger of death and or serious injury to those in its vicinity. According to the court filing, the defendant, "mislead [the plaintiffs] about the safety of the tree, in an effort to save money and convenience at the expense of human safety, exposing [them] to a grave risk of harm, which ultimately occurred."
The complaint filed by the Newport Beach accident attorney details the circumstances of the incident. When the heavy branch broke off, it landed directly on Buelna's legs and feet, causing crush injuries requiring multiple invasive surgeries. Additionally, the jury was provided with documentation and testimony showing that Buelna was airlifted from the scene to Arrowhead Regional Hospital in San Bernardino, and was later transferred to the UCI Medical Center in Orange County in order to receive proper expert care. She remained hospitalized for several months. As a result of the incident Buelna was separated from her young children for an extended period of time, and her limited mobility has made caring for them more difficult.
This special verdict filed with the Superior Court of San Bernardino County on October 25, 2012 takes into account Buelna's past medical expenses, as well as any future treatment related to her personal injury. The entire Buelna family is grateful for the opportunity to move forward.
Since 2004, the accident attorneys at Bergener & Associates have helped thousands of clients throughout California. The personal injury law firm with headquarters in Newport Beach is specialized in auto accidents, dog bites, truck accidents, slip and falls, motorcycle injuries, and defective products. For more information or a free consultation, please call 1.800.881.2021 or visit http://www.bergenerlaw.com.