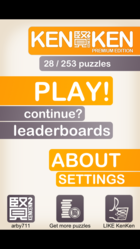 Wonderful version of KenKen with lots of choices from easy to expert. Tools are also easy to use.
Pleasantville, NY (PRWEB) December 05, 2012
This is what people are saying:
"I love this game! Best sudoku + math concepts. Great for students! Great for adults to lift their self esteem!"
"Great game, and I love the free version at Kenken.com. Wide variety of levels provide a low entry point, and yet stays challenging for the strong user."
Comments from user reviews for the latest KenKen app for iPhone/iPad are enthusiastic to say the least. This free app is one of the most advanced on Apple's App store, seamlessly feeding new puzzles and offering a virtually unlimited world of KenKen of all levels, sizes and types.
Here are some of the latest headlines from app reviews
Mathemagically delicious
Brain Food!!
Best puzzle EVER
Addicting!
SUPER!
Great Challenge
Awesome game
Great fun!!
Awesome app, easy to use and fun!
Mesmerizing!
Perfect KenKen app!
Get the KenKen App here.
"I usually don't write reviews but this is a perfect calming and relaxing app to play kenken. I love the music and the variety of puzzles."
About KenKen
KenKen® logic puzzles were first invented in Japan by Tetsuya Miyamoto, promoted as "Kashikoku Naru Puzzle" or the "Makes You Smarter" puzzle, and brought to the rest of world through Nextoy, LLC. With the main goal to improve students' cognitive abilities in mind, he developed a brain stimulating exercise that would be understandable, fun and challenging for students of all levels. Today, Mr. Miyomoto's classroom vision seems to have become a reality.