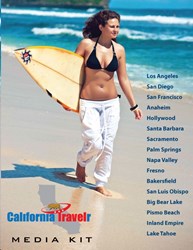 Los Angeles, CA (PRWEB) December 04, 2012
Californiatravelr.com has named Jill Swartz as National Sales Manager. Ms. Swartz will be responsible for hiring & managing new Account Executives
"I very confident that we have an excellent opportunity for Californiatravelr.com to become one of the best B2B online social media space for the California Travel consumer."
"Also, my goal is to increase customer service, increase overall market share, and expand our sales force by hiring up to 5 new Advertising Account Executives"
Founded in 2012, http://www.CaliforniaTravelr.com currently operates as an online coupon shopping guide for all users in 16 California cities; Anaheim, Bakersfield, Big Bear Lake, Fresno, Hollywood, Inland Empire, Lake Tahoe, Los Angeles, Napa Valley, Palm Springs, Pismo Beach, Sacramento, San Diego, San Francisco, San Luis Obispo, and Santa Barbara.
Californiatravelr.com is updated daily to ensure that its visitors have the most current tabs on their favorite sale items, news, and personal information. Social media will include; Facebook, Twitter, You Tube, Linkedin, etc.
Californiatravelr.com goal is to become one of the leading providers of California Traveling B2C coupon based shopping services and information over the Internet. Californiatravelr.com products & services make shopping easy to locate, browse, and buy from local businesses. In short, Californiatravelr.com will offer and distribute, fine quality products and services, safe, quickly & cost effectively for Internet users.
Californiatravelr.com users will discover other online services such as; entertainment news, sports news, chat ability, employment, real estate news, coupon shopping, and business news. Visitors will be able to shop a given product or service at 24/7 any time of the day, over and over with the click of the mouse.
Californiatravelr.com will also use traditional media outlets such as, broadcast television, cable television, print, radio, direct mail, etc. to increase awareness and drive traffic to the new site.