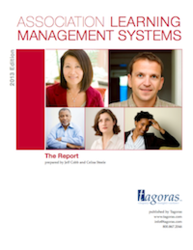 For the price of about an hour of a qualified consultant's time, organizations can slash the time and costs typically associated with selecting an LMS.
Washington, DC (PRWEB) December 05, 2012
Tagoras, a research and consulting firm specializing in the business of continuing education and professional development, announced today the release of a new edition of Association Learning Management Systems - a report offering highly detailed information about 20 commercial learning management system options for trade and professional associations. The announcement was made at the annual American Society of Association Executive's Technology Conference in Washington, DC.
The Tagoras Association Learning Management Systems report provides associations with:
In-depth profiles of 20 LMSes covering 28 different areas
30 tables that compare systems across a variety of areas
Brief reviews of each system based on answers to the questions and a demonstration session with each vendor
An overview of association LMS usage and association e-learning
An extensive set of guiding questions for LMS selection
Companies included in the report are:
Avilar
Blackboard
BlueVolt
CommPartners
Digital Ignite
Digitec Interactive
DLC Solutions
Educadium
iCohere
InReach
Interactyx
Latitude Learning
LearnSomething
Meridian KSI
Neovation
Peach New Media
Starfield Talent Management Systems
Thinking Cap
WBT Systems
Web Courseworks
"This report, like the previous versions, represents a tremendous value for associations," said Celisa Steele, Tagoras managing director of publications and the report's principal author. "For the cost of about an hour of a qualified consultant's time, organizations can slash the time and costs typically associated with selecting an LMS. The report empowers them to run a much better RFP process and reduce the risk in choosing technology that may cost tens, if not hundreds, of thousands of dollars to implement and maintain over its lifetime."
"Our research has shown a steady increase in interest in LMSes in the association sector," added Jeff Cobb, Tagoras managing director of consulting and education. "The companies we profile in the report are ones really dedicated to serving this market and meeting critical needs like integration with association management systems, credit and certification management, and e-commerce."
More information about the report, including a free overview with valuable information about LMS usage and e-learning in the association sector, is available on the Association Learning Management Systems page on the Tagoras Web site.
###
Tagoras (http://www.tagoras.com) provides research and consulting to help organizations maximize the reach, revenue, and impact of their educational offerings. Its clients have included the Society of Critical Care Medicine (SCCM), the North Carolina Association of Certified Public Accountants (NCACPA), the National Association of Community Health Centers (NACHC), the Healthcare Financial Management Association (HFMA), the National Institute of Governmental Purchasing (NIGP), Nurses Improving Care for Healthsystem Elders (NICHE), Booke Seminars (a Division of Aon), and Castle Worldwide.