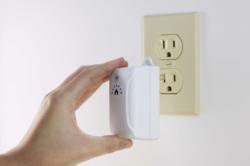 Why pay $25 to $45 per month for phone or internet services when no one is there to use them?
Rochester, NY (PRWEB) December 06, 2012
When Jim Schwartz stepped into his upstate New York cottage last winter and saw his breath, he knew immediately he had a huge problem. In minutes, Jim's worst fears were confirmed: his furnace had quit and water pipes had burst in the property causing over $20,000 in damage.
This situation and many other costly disasters plaguing unattended properties are hoped to be eliminated by a new high-tech monitoring device - MarCELL™ by Sensored Life, LLC.. MarCELL™, is the first cellular-connected remote temperature, humidity and power alarm developed for the residential market. This small, simple device plugs into any standard power outlet and is controlled from Sensored Life's website. Users can set custom temperature and humidity ranges and be alerted immediately if these ranges are exceeded or the power goes out. Multiple alerts are available via e-mail, text message or phone call.
Other disasters MarCELL can prevent include: toxic mold growth from air conditioner failures in extreme heat and humidity regions and basement flooding from sump pump failure during power outages. Any of these situations can easily cost owners tens of thousands of dollars in repairs but could be prevented by MarCELL, which has a introductory price of $149 per device. Monthly connection fees start at $9.95 and no long-term contracts are required.
Sensored Life co-founder, Jim Odorczyk is a friend of Schwartz' and came up with the idea for the cellular connected monitoring device when looking into ways to protect his cottage during the winter. He was frustrated that, "Most temperature monitoring devices found on the market required a phone line or Internet connection. Why pay $25 to $45 per month for phone or internet services when no one is there to use them?"
MarCELL™ uses the nationwide cellular network to report hourly temperature and humidity readings as well. No active landline or internet connection is required in the property being monitored. If a storm knocks out power or telephone lines, the unit will operate off of its internal battery for up to two days, giving homeowners valuable time to address and correct the problem.
Besides seasonal vacation properties, Marcell™ can be used to monitor greenhouses, warehouses, boats, RVs, barns, animal pens, vacant houses for sale, foreclosed or bank-owned properties, multi-unit dwellings and elderly parent homes.
Initial production units will be available in March and units may be pre-ordered via the pre-order website at http://www.GetMarCELL.com at a special introductory price.
About Sensored Life, LLC.:
Founded in 2011, Sensored Life was started by a group of successful serial entrepreneurs headed by Mike O'Brien and Jim Odorczyk. All members have individually founded and run multi-million dollar ventures and all share a passion for innovation, product quality and reliability. Sensored Life aims to continue this tradition with the design, development and distribution of innovative products which provide unique and cost effective solutions for their customers including MarCELL, which stands for Monitor, Alert, Remote access Cellular device.
Media Contact:
Jim Odorczyk
jodorczyk(at)sensoredlife(dot)com
315-536-1100 office
585-210-8165 cell
http://www.SensoredLife.com
http://www.GetMarCELL.com