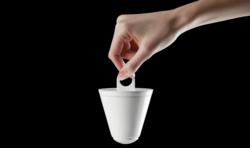 San Francisco, CA (PRWEB) December 04, 2012
Today a new company launched that breaks all the rules: Soma. Its debut product is a sleek-designed glass carafe that contains the first compostable water filter of its kind. The filter removes chlorine, heavy metals, and other contaminants from tap water, resulting in clean water with a crisp taste.
"We believe a product should look great, work well, and be good for the world," says Mike Del Ponte, CEO and Co-Founder of Soma. "We realized that water filtration is an industry ripe for disruption and sustainable change. The incumbents have products that are not currently addressing all of the needs of today's consumers; superior taste, phenomenal user experience, beautiful design, an inspiring brand, and sustainability. We're proud to unveil our first products, which have it all."
Soma was born out of a desire to reinvent the beverage industry while providing a product that elevates the importance of water in our daily lives. The result is the Soma carafe. It combines aesthetics, world- class filtration and sustainability. The Soma carafe is 10.7 inches tall and holds five 8-oz glasses of water. It is sleek, modern, and uses minimalist design to focus everything on the superior form and function of the carafe.
For Soma's filter, the team searched for the preeminent boutique water designer. This search led them to David Beeman, a water filtration expert with over 35 years of experience creating proprietary formulas for Starbucks, Peet's, Keurig, The Coffee Bean, and other leading brands. Beeman highlights, "This entire filter is compostable. There's nothing else like it in the world."
Setting itself apart from the entire water filtration industry, Soma's filter is made of a compostable, food- based PLA composite, carbon granules derived from Malaysian coconut shells, and a special layer of vegan silk that adds to the filtration process.These filters are also sent direct to customers' door every two months, via subscription, so you never forget to change your filter on time.
Tim Ferriss, world renown health expert, the author of bestselling books The 4-Hour Body and The 4-Hour Chef, explains: "What's remarkable about Soma is that they've incorporated sustainability, beautiful design, unmatched functionality and great taste - all from the very start. They are obsessed with innovating on every level, and when you use the product, you can tell."
The Soma carafe and filters are sold exclusively online. The filters are delivered directly to consumers' doors every two months via subscription, so they never forget to change their filter on time. The Soma carafe is now available for a special price of $50 for the carafe, 3 filters and free shipping at http://bit.ly/ somawater.
For hi-res photos and video visit http://www.somawater.co/press. To schedule an interview with Soma's founder, Mike Del Ponte, please contact mike(at)somawater(dot)com.